Drive project management maturity with Microsoft Project Online
45% of project management professionals were sometimes or very dissatisfied with the current level of project management maturity in their organisation.
This significant finding comes from The State of Project Management Annual Survey 2016 conducted by Wellingtone and the APM PMO SIG that captured the views of 317 UK organisations.
50% of professionals in the same survey scored their organisation at level 2 or lower against a 5 level project management maturity model. It's clear many organisations have very low project management maturity. This is directly reflected in poor project performance. The survey provides a clear picture of project performance with approximately one third of organisations "mostly or always" performing well, one third "about half of projects" perform well and one third projects "sometime or never" perform well.
So this isn't great headline reading, but let's get into the details a little further. What are the largest challenges organisation face relating to PPM? Again, The State of Project Management Survey provides some insight: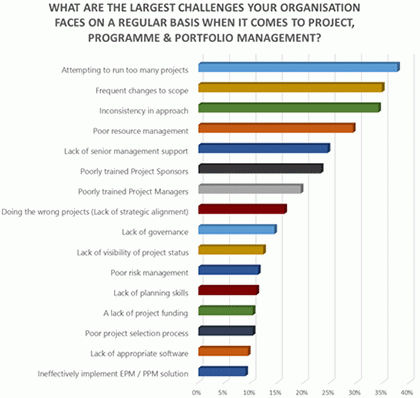 These probably look familiar to you and at least give you a feeling of shared experience with fellow practitioners. "Yes, we are doing too many projects". "Yes, our resource management is an out of date, but very colourful, spreadsheet". Phew, it's not just me and my organisation then!
The purpose of this short series of three blog articles and accompanying webinars is to discuss how Microsoft Project Online can drive a step change in project management maturity. So if you are interested in dragging your organisation to the next level, have recently deployed Office365, or looking to build on the desktop Microsoft Project solution this is definitely for you!
At Wellingtone we talk to our clients about defining their project management roadmap. The journey to be taken to enable a step change. What is the suite of initiatives that together can enable a step change in maturity? This short blog post cannot attempt to provide a detailed analysis but typically this includes establishing or improving:
Project governance (including project selection and prioritisation)
Project methodology (including a defined approach to running projects of varying sizes and programmes)
Project Management Office (including agreeing the scope of the PMO)
Skills and knowledge (for those asked to project manage and also sponsor projects)
PPM toolset (we need simplicity, visibility, collaboration and automation)
Community of practitioners (because each PM is not an island and knowledge sharing provides immense benefit)
So a key element of this journey is the deployment of a PPM solution. It cannot be "everything" or the "complete solution" but actually can drive major change both in terms of project information and behaviours. Your deployment can become the catalyst for a step change in project management maturity. If we look at the independent Forrester report; "The Total Economic Impact of Microsoft Office PPM" we can see how the top priorities for organisations introducing a PPM solution align well with the largest challenges data from The State of Project Management survey cited earlier.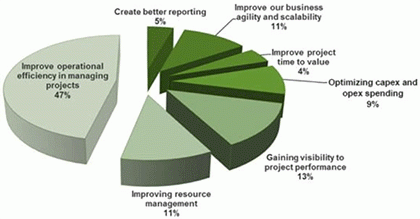 So deploying a PPM toolset can provide a wide range of benefits that help drive change, both in terms of project information and behaviours. Key benefits include:
Project information is no longer lost on a shared drive or hidden from view by the PM. Everyone can access the project site with "one version of the truth" for the project schedule, document, RAID log and shared progress updates.
Projects follow defined consistent templates for the schedule, documents, even the approval stage gates and lifecycle. Project managers are guided by the organisation, rather than taking their own path.
Team members can be assigned project and BAU work. These assignments can be added up to see how busy they are compared to their availability. This is also possible by role, team and department. As plans are updated, the resource utilisation data is automatically updated.
Consistent reporting is often a struggle and time consuming. The project highlight report or programme status report becomes a click of a button, letting project managers focus on project delivery, not project admin.
The independent Forrester report calculates ROI of 301% based on the real experience of real organisations deploying Microsoft Project Online.
At Wellingtone we see that the deployment of Microsoft Project Online is also a driver for change. It's not just about having a nice BI dashboard or a web site for each project. It's about driving project management maturity to the next level. Establishing a solution that provides visibility of information, collaboration, enterprise wide resource management and clever reporting will result in a step change when deployed correctly. The deployment of Microsoft Project Online is not "just" a software project but a powerful business change.
Food for thought
Take a step back. Consider your organisation and the current level of project management maturity. How well can you answer these questions? Be honest!
How many projects are currently running? Is there is a single, central, up to date list (project register)?
Are projects run in a consistent way based on a scalable project management methodology? Who approved these projects?
Is there a project schedule for each project and is this baselined at the end of the planning stage?
If you approved a new project, how would the impact on resource demand versus availability be assessed? Do you have a very colourful, but out of date, resource spreadsheet?
Is there a consistent & efficient approach to project document management? Can all team members easily access and interact with project documents, tasks, RAID log?
Maybe project management maturity in your organisation could be improved? Our next article will look in more detail about how you can achieve consistency, visibility and collaboration with Microsoft Project Online and will include an invite to our first of two short webinars to give you a real insight into what is possible.
In the meantime, some bedtime reading:
The State of Project Management Annual Survey
Forrester Report; The Total Economic Impact of Microsoft Office 365 PPM.
---
This blog is written and sponsored by Microsoft. Vince Hines is director of Wellingtone Project Management who are a Microsoft GOLD Certified Partner with Project and Portfolio Management Specialisation.