20|20 Business Insight renew APM sponsorship deal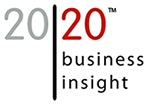 APM are proud to announce the renewal of the landmark sponsorship deal with 20|20 Business Insight.
The sponsorship includes:
This continual collaboration between APM and 20|20 Business Insight shows the success of the partnership between each organisation and their commitment to develop project management learning throughout the UK.
Speaking on behalf of 20|20 Business Insight, Tony Marks CEO, said: Sponsoring these events with APM represents a perfect partnership for 20|20 Business Insight.
APM is committed to developing and promoting project and programme management through its FIVE Dimensions of Professionalism. In the UK, 20|20 Business Insight deliver project management training courses and consulting services that help clients to achieve the professionalism levels developed by APM.
20|20 Business Insight also deliver on a global basis and promote APM standards amongst others to an international audience.
APM commercial manager Nick Hayes said: We are naturally delighted 20|20 Business Insight is continuing to support APM in running these key events for the project, programme and portfolio community.
It is another example of the profession working with its commercial partners to improve professionalism in project management, so the significant benefits derivable from improved project delivery capability can be achieved.
This sponsorship agreement represents an ideal chance to further promote the large range of training and consulting options offered by 20|20 Business Insight to the project management community in the UK. Whatever level or experience, there is an appropriate APM qualification available. Whatever project management needs arise, there is a system and solution available.
20|20 Business Insights full training course list
20|20 Business Insights consulting services
For more information, please contact 20|20 Business Insight