2014-15 Scottish PM Challenge
At the end of last summer the APM Scotland branch announced the start of the process for the 5th annual Scotland PM Challenge with a call for entries from teams of university students or young PM professionals across Scotland.
The APM PM Challenge is hosted by a number of branches throughout the UK and seeks to develop potential and new project professionals by providing the opportunity to work as a team to deliver a real project from concept to completion. Teams are expected to show adherence to APM principals and project management best practices throughout the process.
This year's theme focused on innovation whilst raising money for charity.
With the Scotland branch being so spread out (divided in to two areas; Aberdeen and the Central Belt) we received no fewer than eight entries in total.
The teams set about preparing their project proposals in readiness for the two proposals evenings which were both held on 27th November 2014 - one in Aberdeen and the other in Edinburgh.
Having seen the quality and enthusiasm shown by all those who participated in the proposals evenings the project board, made up of Scotland branch committee members who volunteer their time outside of their 'day jobs', were thoroughly impressed by the entries. Concepts included launching a balloon into the outer atmosphere, hosting a mini-Olympics, selling picture pixels online to other more sustainable projects based on school children decorating reusable bags and the creation of a bracelet to raise awareness of cancer.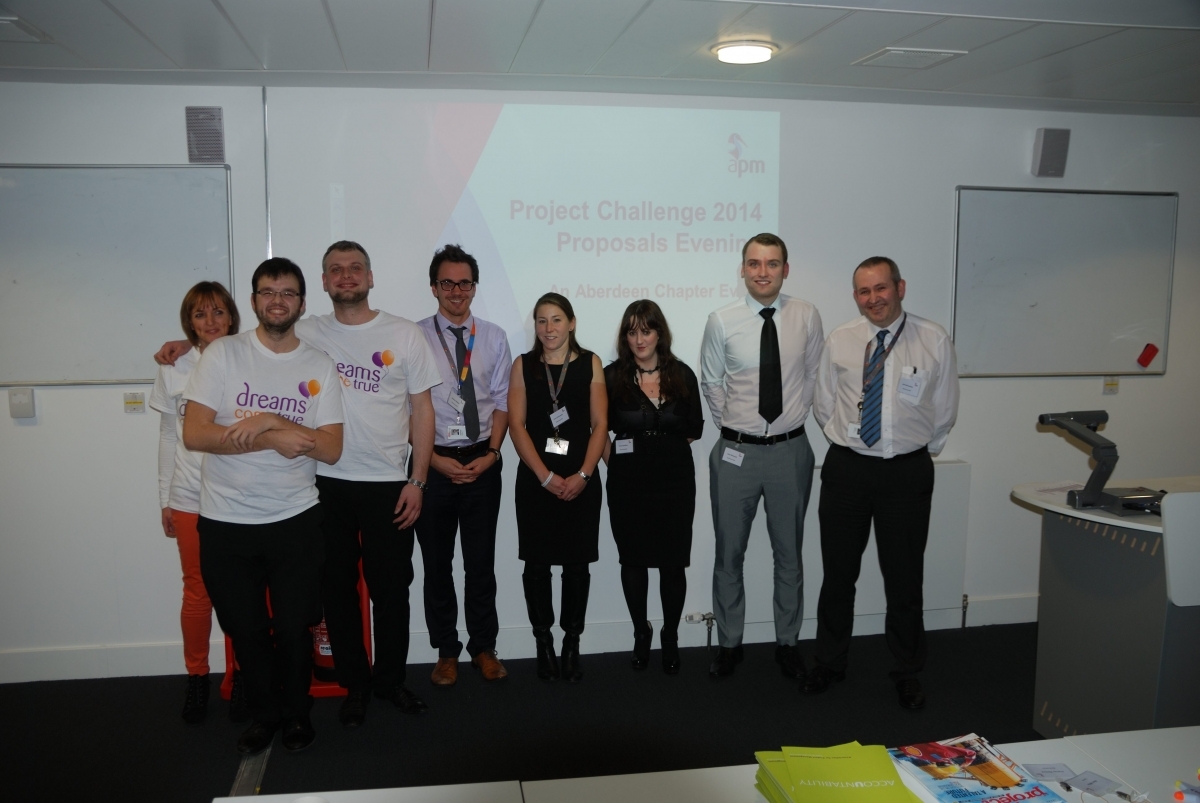 Pictured: The Aberdeen finalist teams (Big Dreamers and Wood Group PSN)
The teams chosen to go through to this year's final (and their respective charities) were:
Selex ES (Cash for Kids)
Thales UK (Alzheimer Scotland)
'Big Dreamers' from Robert Gordon University (Dreams Come True)
Wood Group PSN (Vine Trust)
Each of these teams were then provided with £100 budget to initiate their project and were assigned an experienced mentor (also APM Scotland branch volunteers) who would provide their team with expert guidance.
The four finalist teams were left to bring their projects to life whilst the Project Board set about organising the finals night, where teams would report on the outcome of their projects.
On 26th March, at Ardoe House Hotel in Aberdeen, the Project Board, APM members and guests, plus a panel of judges learned how the finalist teams raised approx. £10,000 in between them for a variety of charitable causes through their projects which applied "innovation whilst raising money for charity" (the theme for this year's APM Scottish PM Challenge).
| | |
| --- | --- |
| | |
The competition saw our four finalist teams undertake a selection of activities including a weather balloon launch, the production and sale of sustainable carrier bags, an online auction and the virtual sale of bricks and mortar to build the online equivalent of a house in Tanzania. This was all in their quest to raise both money and awareness for their chosen charities. They had approximately eight weeks to complete their projects before presenting them to a panel of judges and the audience who voted for the winning presentation; guests learned each team's story from planning and delivery through to the production of a five minute video and group presentation.
The finals evening in Aberdeen, kindly sponsored by 20|20 Business Insight and BAE Systems, saw the Wood Group PSN team triumph.

Congratulations to the winning team - Wood Group PSN; this year's Scottish PM Challenge finalists!
The winning team consisted of Laura Duckworth (Project Manager), Andrew Wallace (I.T. & Communications), Jack McCracken (Risk Manager), Terri Davidson (Planner) and Sean MacKintosh (Cost Controller) and £6,902.22 was raised for their chosen charity the Vine Trust.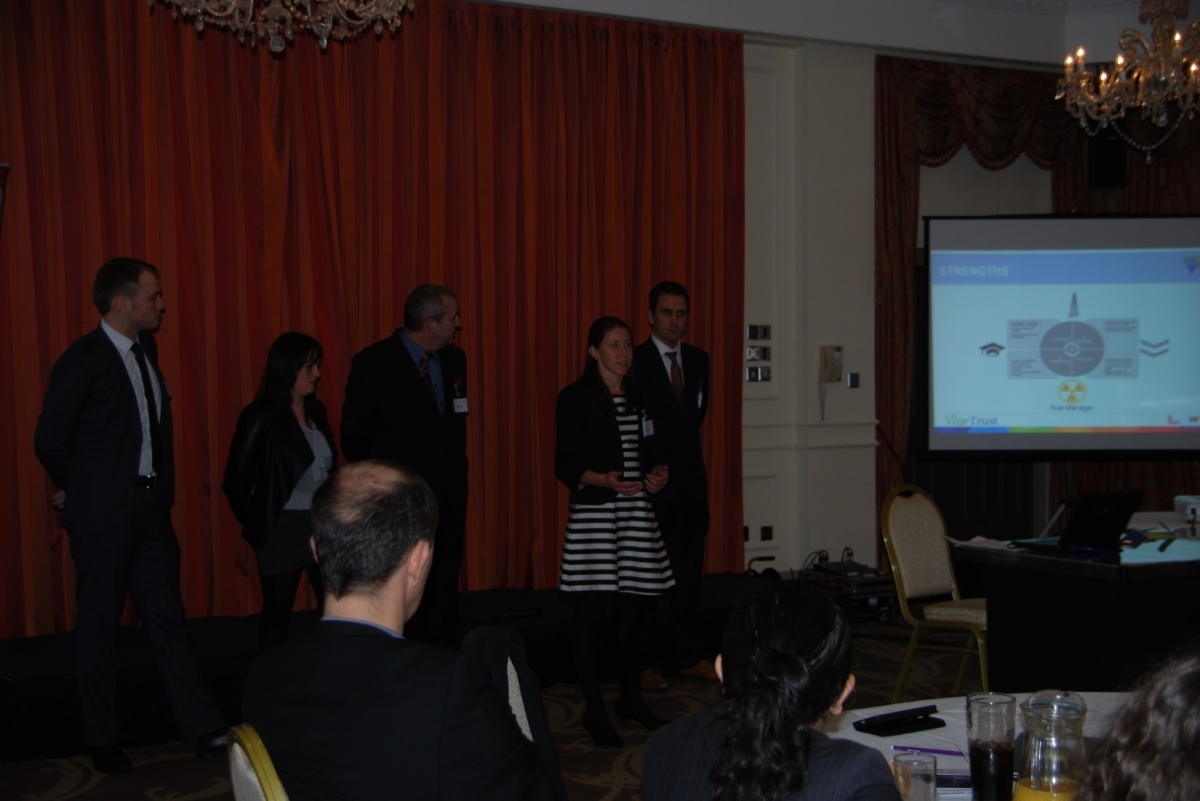 Pictured above: The winning team from Wood Group PSN making their presentation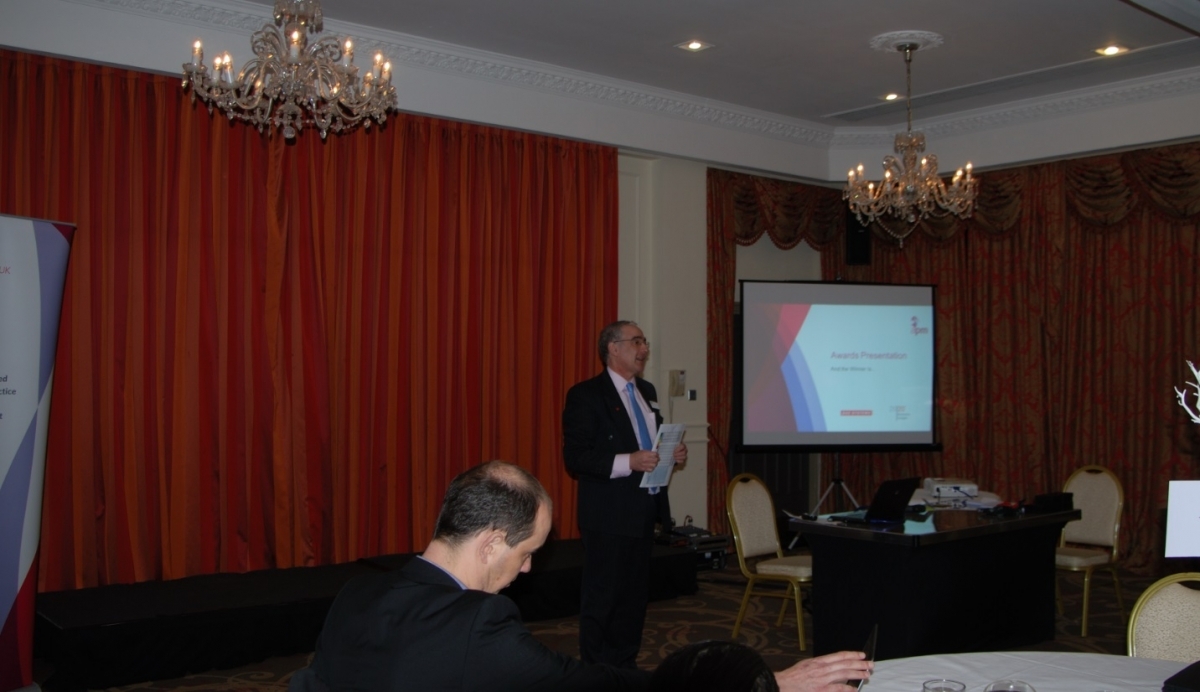 Pictured above: lead judge and ex-Aberdeen Chair, Peter Benton, announces the results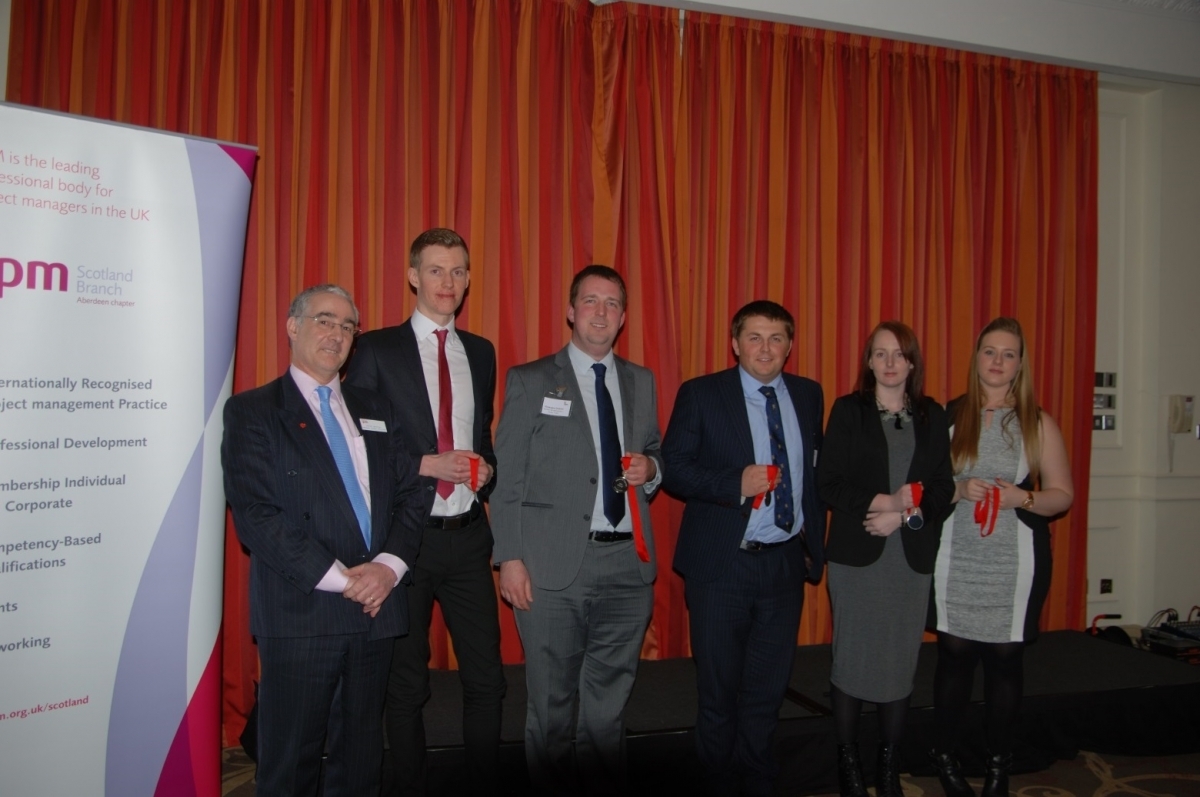 Pictured above: Thales UK's team who came in second place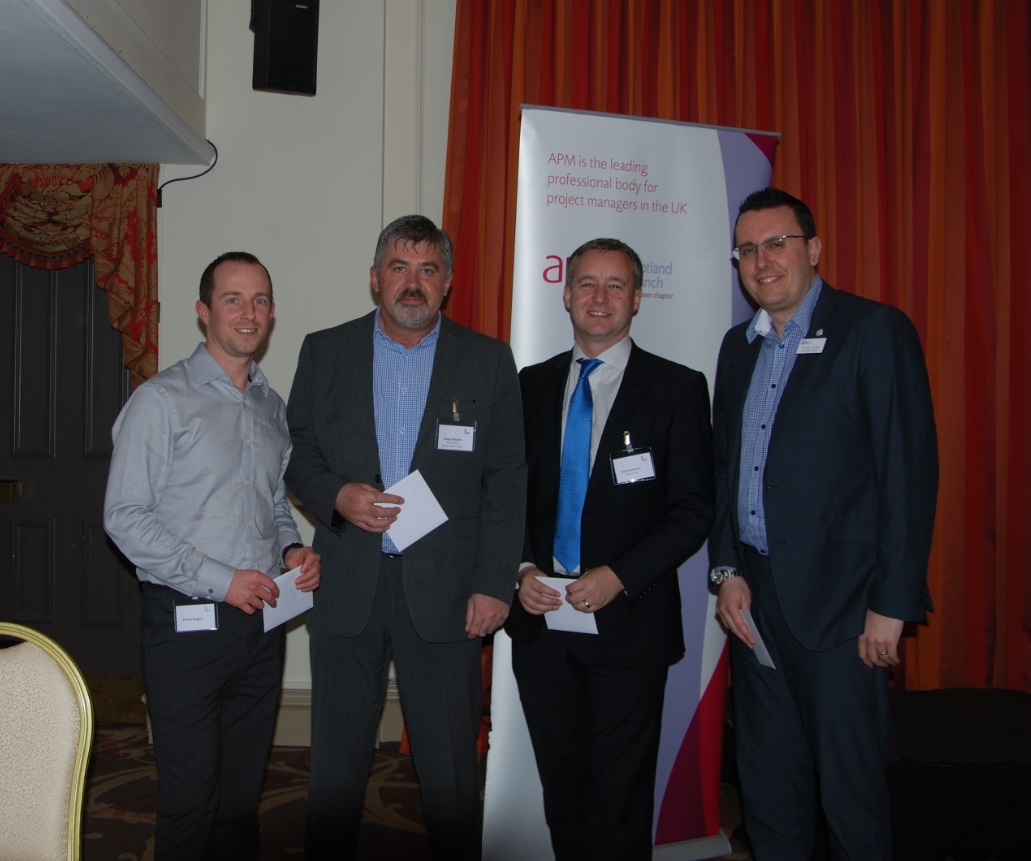 Pictured above: the mentors for this year's four finalist teams (left to right; Patrick Duggan, Doug Littlejohn, David Hamilton and Anthony Dobbie)