5th branch dinner and the Battle of Britain
The Branch was delighted in organising the fifth annual SWWE (South Wales and West of England) branch dinner, held at the Aztec Hotel and Spa, Bristol. Following pre-dinner drinks and networking, Martin Gosden, branch chairman, welcomed guests and thanked them their support and for braving the traffic due to a major accident on the M4, and their patience with the delay to dinner to allow guests to arrive.
Following the excellent three course dinner and wine, Martin Gosden welcomed our speaker, Stephen Carver and thanked him for enduring a 4 hour drive and arriving just in time for dinner. Stephen is one of the top lecturers at one of Europes leading business schools, Cranfield. He has a unique ability to take concepts and ideas and distill them into fun and informative stories. Stephen sees story telling is a valuable leadership tool, which helps people understand and retain key messages.
Stephens rip-roaring, fast paced and entertaining story tonight was about flying and the Battle of Britain.
Stephen looked at the airline industry and how it uses highly trained pilots to control inherently unsafe aircraft which have no crash resistance and useless safety equipment!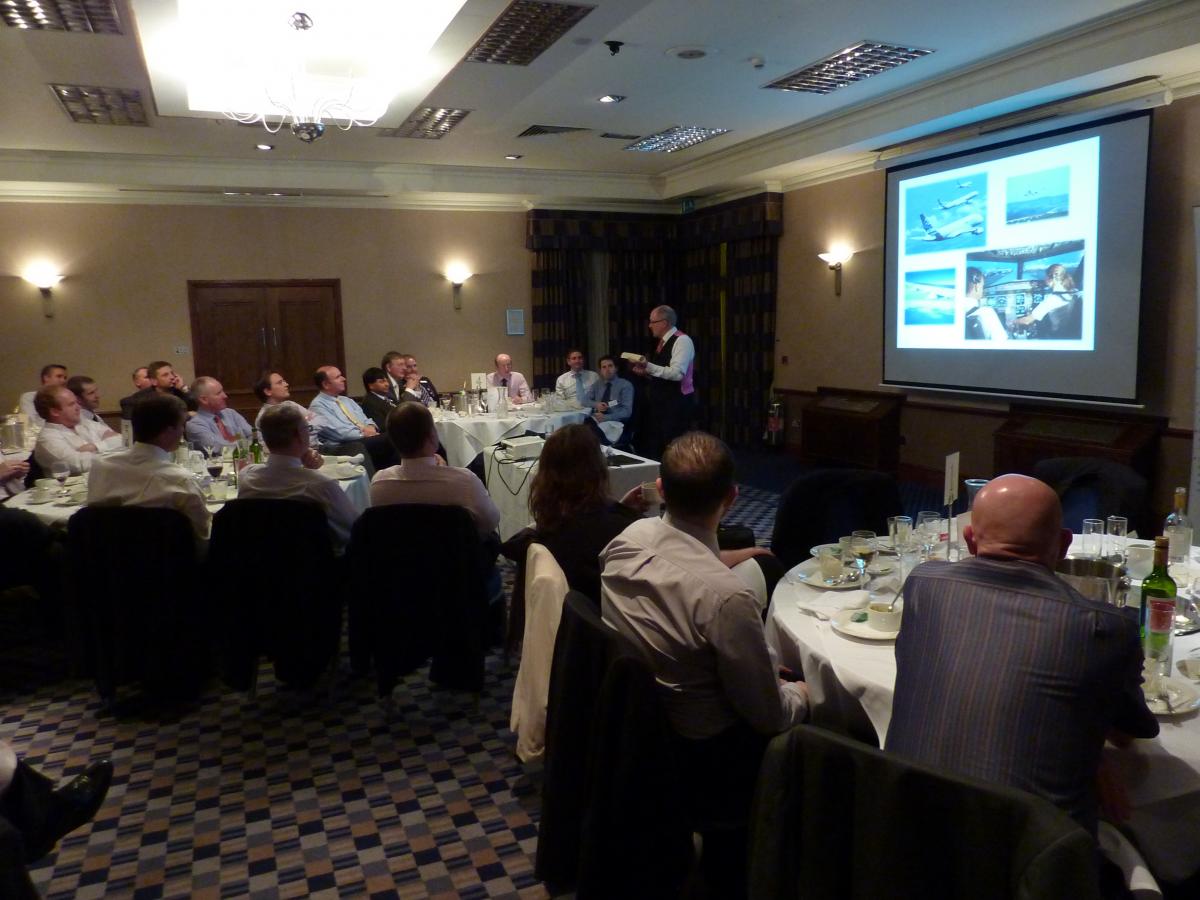 The pilots are really there to manage abnormal events, and Stephen used a video of the Hudson River plane ditching in 2009 to tell the story of how both the pilot and the air traffic controllers managed the incident to ensure all passengers survived. The key was that the pilot knew what to do, followed procedures, was totally calm at all times and fully supported by air traffic control. Stephen made the point that Pilots, (as project managers - PMs), work in co-operation with air traffic control, (as programme managers), as equals, there is no hierarchy. He asked when things go wrong, how calm are your project managers, do they know what to do, and how supportive are your programme boards and SROs? Pilots are very well trained and continually re-certified, how well trained are your PMs? Too often we place highly complex, costly projects with untrained and unqualified PMs. Stephen asked as a passenger, would you want to fly with an untrained pilot?
Using the flight analogy Stephen looked at the dimensions of risk complexity. Commercial flights (normal projects) have low structural and dynamic complexity, air traffic control (programmes) has high structural and low dynamic complexity. Such projects and programmes are predictable and can be managed with check lists, processes and procedures. Stephen argued that a very different approach is needed to manage the risk of high dynamic complexity, for example with a fighter pilot who has to cope with enemy imposed changes very quickly, without an SRO or steering committee!. This requires intense training and the ability to make decisions very quickly. Stephen asked how do you lead a group of fighter pilots successfully?
This question led on neatly to the Battle of Britain story. Stephen outlined the situation in 1940. Unlike Germany, Britain had largely rubbish planes, until the privately funded Spitfire and Hurricane were produced in sufficient numbers, few pilots, little experience, outdated tactics and low morale. Fortunately, head of Fighter Command, Huw Dowding, understood the need to predict where the enemy might attack and designed a system to provide warning time by combining information from radar, observers, direction finders, displaying it on chart tables so that the whole dynamic picture could be seen so that fighters could be directed to where they needed to be to ambush the enemy. In this way the dynamic complexity and risk at the programme level was managed.
Traditionally, fighter pilots were seen as mavericks, individualistic risk takers only interested in fighter on fighter engagements. Stephen contrasted the styles of two of Dowdings commanders: Leigh Mallory, who was a traditionalist linear process thinker focussed on fighter vs fighter, and Keith Park who thought very differently and focussed on denying air superiority to prevent an invasion and to buy time for Britain. Keiths focus was on engaging the bombers before they raided to deny them their objectives. He also understood the need for integrated teams, no heroes, and building trust with his men. He made good use of key metrics to continuously improve performance. Reducing scramble time was used to encourage innovation, to ignore the rules, to learn and improve. In this way, the RAF was able to learn, adapt and manage the German threat. If Mallory had been in charge in the South East corner, the RAF would have remained inflexible and Britain would have quickly lost.
Stephen outlined another factor in the battle; Goerings strategic incompetence. Germanys big mistake was to bomb London. This became predictable and allowed the RAF to fine tune their response. The German attrition rate became unsustainable and by October 1940 with the autumn storms in the English Channel the invasion was cancelled and Hitler turned on Russia! The Battle of Britain had been won.
Stephen concluded with asking what can we learn from this:
The need to have a clear vision/strategy

Do more with less

Turn on the radar!

Know where you/the enemy are

Have simple/flexible/agile systems

Communicate

Lead/empower/trust

Embrace risk & complexity
Stephen finished of the exciting evening by handing out model planes which we all built and then had a mass dog fight!
Martin Gosden
SWWE Branch Chairman