A day of myth-busting at the APM conference 2015
A Day of Myth-Busting at the APM conference 2015

This year, I was lucky to attend the sold-out APM conference. This piece is to share my insights to project and programme managers who were unable to join us for what turned out to be a very inspiring day.

I set off by train to travel to London before sunrise on 19th March 2015 for the APM conference, with the title of Myth Busting. The sun was up by the time I walked the short distance from St Pancras to Kings Place, wondering what insights I'd learn.

Arriving in the basement by escalator, I noticed that there were three large halls, one for each track: People Myths, Delivery Myths and Big Project Myths. The exhibition was already in full swing and the Twitter stream was up on the wall: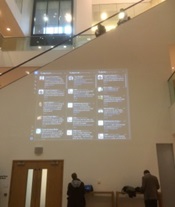 The conference kicked off as Mary McKinlay introduced the first keynote speaker, Dr Ben Goldacre. He encouraged us to be skeptical and to use randomized control trials wherever possible, in public policy and our projects just as much as in medicine. What was his message for project and programme managers? There is value in finding out that things don't work, even if people have been using them for years. For example, doctors have been giving steroids to people with head injuries for decades. When tested, it turned out that, for every hundred people given steroids, an extra two people would die compared to the result when people were given nothing. Now you know what to avoid should you injure your head…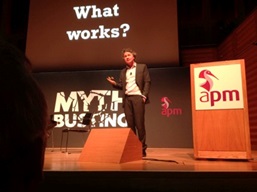 Here is my visual summary of Ben's talk: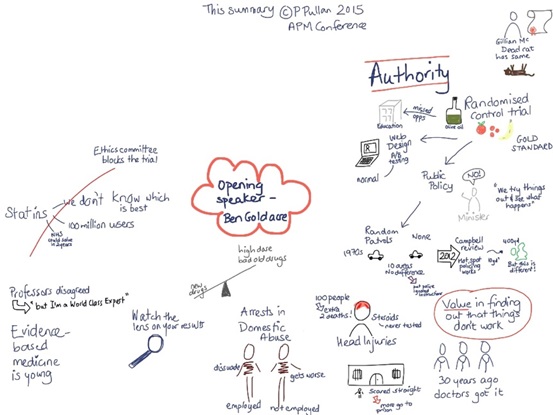 What would be your test of a successful project or programme? Jason Dalrymple of the NATS team, presented on Delivery Myths, talking about making success personal. 'Will this help Rob feel smug?' was one of the questions Jason's team used, which helped them to plan for success from the very start and make their project more personal to individuals. They found that telling the story of their COAST project was much more powerful that reporting on milestones and Gantt charts. Does process deliver projects? 'NO! It's a myth', said Jason. Process gives structure and consistency, but success came from being a team focused on people. If NATS can do this on a project, which they likened to changing everything, engine and all, on a speeding car, then perhaps it might work for you too?

You can see Jason's slides at https://www.apm.org.uk/apm-conference-delivery-myths#Jason
Here's my visual summary of Jason's talk: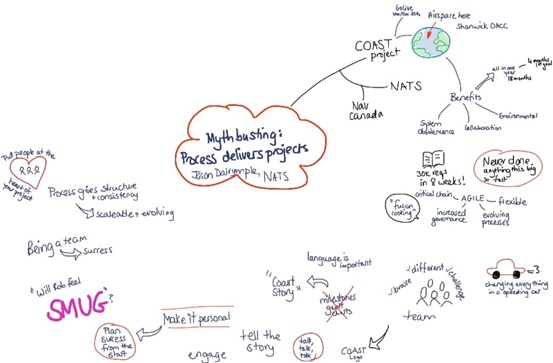 Next stop was the People Myths hall for the 'Myth of the Complete Leader' with Dr David Pendleton. Does a complete leader exist, he asked? Well his team hasn't found one yet! In the 21st Century, leadership is becoming much more about partnership and co-leadership, with people far more likely to follow plans they are involved in creating. On projects and programmes, we need to gain people's rational commitment of course, but also their emotional commitment to our work. He talked about leadership encompassing three domains: the strategic domain, the operational domain and the interpersonal domain, as well as the overlaps between the three. Add in that leaders need to be able to cope with pressure, and you have David's model. The complete leader myth would like us to believe that a single person could excel at all three domains. In reality, David suggests that we can't, so we'd do best to aim for well-rounded teams so that all the different domains are covered well across the team. As individuals, then, we need to consider ourselves as jigsaw pieces and look for others to balance us.

You can see David's slides at https://www.apm.org.uk/apm-conference-people-myths#David
Here's my visual summary of David's talk: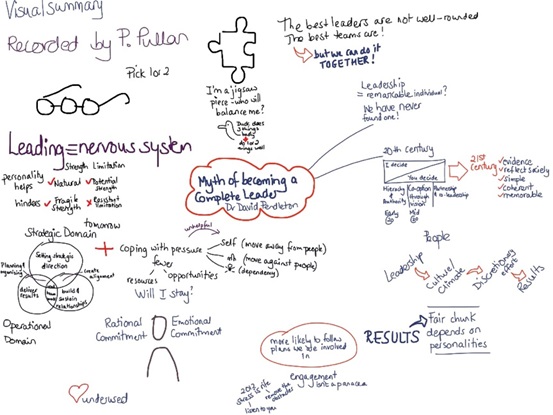 After lunch, I stayed with People Myths to hear Manon Bradley of the Major Projects Association talk about diversity on projects. Manon explored the need for diversity: both skills shortages and the need for better performance. Then she looked more deeply at the conflict between personal and corporate choices when choosing a job. While benefits of diversity show at a project or corporate level, people make decisions at a personal level. What does this mean for our projects? Using a computer model, Manon showed how career gender segregation happens, often leading to isolation and dropout. But what can we do about this? Overcoming unconscious bias is one thing: remove names from applications and widen opportunities beyond the STEM subjects. Perhaps it might even be possible to write a job-share job description for a project manager? Manon closed by drawing lessons from her sport of powerlifting: the introduction of cross fit and music changed the environment and drew large numbers of women into the sport. How can we do the same for project and programme management?

You can see Manon's slides at https://www.apm.org.uk/apm-conference-people-myths#Manon
Here's my visual summary of Manon's talk: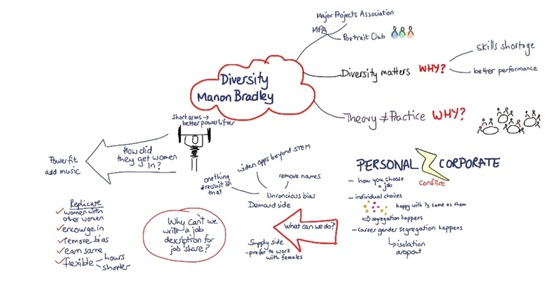 I went to the Delivery Myth hall to hear Dr Linda Holbeche talk about 'The Agile Effect'. Linda talked about all the drivers for organisations to become agile, which included Generation Y, VUCA (volatility, uncertainty, complexity, ambiguity), globalization, the knowledge economy and much more. Linda shared the story of two film suppliers: Kodak and Fuji. With the changes to digital, Kodak went bust but Fuji diversified and is even involved in skin care products now!

Linda then moved to focus on individuals, looking at three strands of engagement: social, intellectual and emotional. Just as David mentioned earlier, resilience is important for leadership and mindset is key. Good leaders will ask good questions rather than always know the answers.

You can't see Linda's slides on the website, but they can be provided on request.
Here's my visual summary of Linda's talk: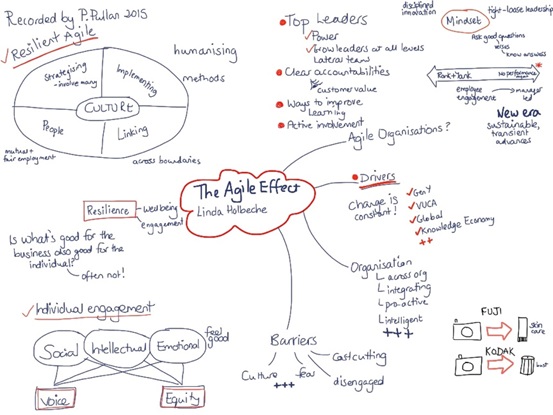 At the end of the day, Matthew Syed finished off with 'The Myth of Talent'. His thesis is that world class performance is not due to talent or genes. As a former table tennis champion, he has found that high quality learning experience is more important than the gifts people have. For Matthew, years of practice help champions make sense of complexity and deal with difficult situations in their games, rather than their inbuilt talent.

Matthew then drew on research to explain the difference between the Fixed Mindset (I am only as a good as my gifts) and the Growth Mindset (I have the capacity to grow by working hard). The aviation industry is an example that has a clear growth mindset, always looking to analyse and learn from accidents and near misses. Matthew suggested that many surgeons have a fixed mindset and that if the patient dies, that's a problem with the patient.

Matthew's own experience of growing up in Silverdale Road in Reading shows just how this can work. It is no coincidence that a huge proportion of table tennis pros in the UK lived on this road as children. It's not because of shared genes but a brilliant coach, a table tennis club and lots of competition. How can project and programme managers help people to move from a fixed to a growth mindset? Praise for effort, not achievement, and encourage people that they have the capacity to transform with practice!

Here's my visual summary of Matthew's talk: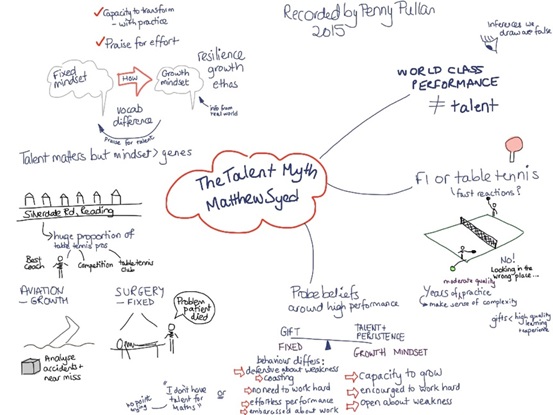 All in all, it was a very thought-provoking day. The strands I saw featured over and over again include:
Think carefully about what will work in your situation and learn as you go;
Leadership does not need a perfect individual; we can do it together as a well-rounded team;
People deliver projects – engage them with emotionally and socially as well as rationally;
People make decisions based on their personal perspective;
Practice makes perfect, and make sure you learn as you go;
Resilience is a key component of leadership (and project leadership of course!)
Change is constant!
I look forward to discussing these ideas further via the comments, so feel free to fire away!

Dr Penny Pullan
Programme Management SIG