A-level results – what are your next steps?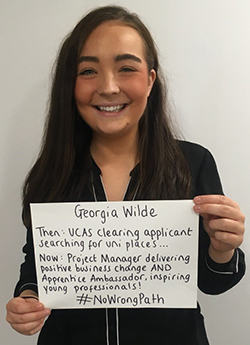 August is the month for the highly anticipated A-level and GCSE results. Thousands of young people (and some older ones too) are bracing themselves for sight of a little slip of paper that defines years of hard work.
APM wishes to congratulate everyone on their results and to remind you that we are here to support you with your next steps in project management. 
There are a variety of dynamic educational and career options out there for school leavers to get into project management, whatever your results.
You could go to university through one of your choices or through clearing if your results weren't what you expected, or an apprenticeship if you feel like earning and learning. Georgia Wilde, Apprentice Project Manager for Direct Line Group explains: "Throughout my life in education, I always dreamt of a career that would not allow me to live the same day twice. I chose project management because the opportunities are endless, there are millions of industries out there that use project management on a daily basis. Every day brings a new challenge to tackle, a new skill to master and a new hurdle to jump over.
"An apprenticeship in project management has allowed me to experience these challenges first hand. To develop and master these skills in my everyday life and to jump over any hurdles with ease as I now have a wealth of knowledge and expertise that I continue to build on through exposure to real-life situations.
"I am developing as both an individual and a project professional whilst studying for an industry recognised qualification that covers the same theory and content as a university degree. One year ago, I made the decision to take on apprenticeship in project management and I haven't looked back since."
Find out more about a career in project management, or email us at info@apm.org.uk