Achieving success through communication [video]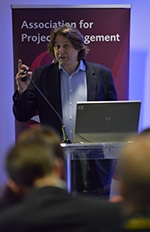 Top communication strategist, Alan Barnard, highlights how project success can be achieved with an effective and well defined communications campaign.
In the latest edition of videos from PM Channel, you can see Alan's presentation from last year's APM Project Management Conference where he discusses the importance of communication, highlighting the power of story-telling and the importance of clause.
In an interview after his presentation at the New Frontiers themed event Alan emphasised how communication is vital in getting support for a project and believes in "story telling with a purpose."
"Getting that story right is really important," said Alan. "There's got to be an emotional compulsion behind it – a reason for people to support your story. All too often we think that people make rational decisions based on facts and figures, that's just not how it works."
You also have the opportunity to see the full presentation by PR Academy's Ann Pilkington. The communication expert, who combined with Alan in a session at the APM Conference, believes communication is the difference between a project succeeding or failing.
In an interview with APM Ann said: "Communication is a professional skill, it is a specialist skill, and is very often one of the things that gets lost on projects.
"Let's make sure that communication on projects is given a strategic role and is invested in because it can make the difference between project success and failure."
Video presentation and accompanying slides are also available from PM Channel that feature world class communicator Roy Sheppard who will teach you learn life-changing strategies and practical tips on how to be a genuinely upbeat person.
Watch the ever-popular speaker Stephen Carver give a presentation where he audaciously describes communication as "taking real balls". Bruno Kahne PhD also showcases twelve lessons from the deaf world that will improve your communication.
As part of the on-going partnership between APM and the video based training and development content provider – The PM Channel – free access to otherwise subscription only videos has been made available to APM website visitors. 

New videos will be regularly published on APM's website by The PM Channel which will include topical APM content and selected footage from other major partners and individual contributors.