APM adds to impressive conference speaker line-up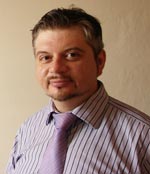 The Association for Project Management have announced more influential figures that will be speaking at the APM Project Management Conference on 20th October 2011. Dr Achilleas Mavrellis (pictured), an operational research analyst in UK Government; Dr Mike Florence from AstraZeneca R&D and Andy Bloor from BAE Systems will join Professor Eddie Obeng, learning director at Pentacle; Michel Thiry, managing partner at Valense Ltd; Jeremy Beeton, director general of the Government Olympic Executive; Tim Banfield, director at the National Audit Office and many others in the conference programme. Make sure you dont miss out on hearing from the professions most senior speakers by booking your place at the conference today.
A physicist and mathematician by training, Dr Achilleas Mavrellis current work interests focus on supporting the process and behavioural change required to catalyse portfolio management in large organisations. For the last six years Achilleas has been working as an operational research analyst in UK Government in the areas of academies funding at the Department for Education, and portfolio management in the Export Credits Guarantee Department and the Department for Environment, Food and Rural Affairs (Defra). After completing his PhD as a Fulbright Scholar in the US in 1998, Achilleas received a European Commission Marie Curie Fellowship to conduct research in the Netherlands. He worked as a research scientist in the Dutch government for the Foundations for Space Research and for Atomic and Molecular Physics (FOM-AMOLF) before coming to the UK in 2005 to serve in HMG.

Joining Achilleas in the line-up will be Dr Mike Florence who is a global project manager at AstraZeneca R&D. He is leading a number of cross-functional teams to develop a portfolio of candidate drugs, from the laboratory to launch. More recently Mike has coached and developed project managers and project leaders as part of setting up the project management structure within the new business unit. Previously, Mike worked as a global risk partner supporting the development of risk across AstraZeneca. In Operations, Mike was an international project and risk manager working with AstraZeneca supply sites globally to deliver projects and support the development and embedding of risk. He also worked with all key AstraZeneca products to review and re-design supply chains to deliver the best mix of customer service and cost.
Speaking in the growing professionalism stream will be Andy Bloor, who is helping to develop the next generation of project managers. Andy is responsible for the Project Management Learning and Capability Development within BAE Systems Military Air and Information. A key part of this role is the development of the early careers within project management including overall responsibility for the Project Control Foundation Scheme. This scheme employs school leavers, post A-level, and combines a project control role in the business with studying for a degree in project management. Andy has been with BAE Systems for 27 years.
With more speakers still to be announced, the APM Conference is a day not to be missed. The event is open to all with APM members receiving 100 off the full delegate rate. Ensure you dont miss out and book your place at the new world, new project management themed conference today.



Delegate rates:
| | |
| --- | --- |
| APM members | 350 per person* |
| APM non members | 450 per person* |

If you would like to make a corporate or group booking, please contact Vicki Orbell on 01908 398380. Alternatively please contact the APM business development team on 01844 271 682.
*All prices are exclusive of VAT.