APM and RICS lead the way
There is a growing need for project managers to be organisational change leaders, especially as the UK is starting an economic recovery.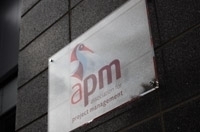 This is one of the key the messages that came out from the joint APM and RICS conference on leadership that took place in London on 25th February.
The APM People SIGs Robert Blakemore reflects on the thought-inspiring event which gave focus to the need for all organisations to recognise, nurture and offer opportunities to develop people centred skills amongst their project staff.
Robert said: It is clear that once again, public and private sector organisations are thinking about how they might do more to retain their most experienced staff as more opportunities inevitably arise in the upturn, and what more they can do to ensure people are happy and challenged in their employment.
The conference featured senior speakers from both the private and public sector including the Governments chief construction advisor Peter Hansford. Robert outlines the call-to-arms request in Peters presentation that was based on the UK Government Construction Strategy.
He said: Peter's presentation was centred around a message of what would be required of the construction industry in the future, and indeed the increasing need for a leadership role from APM and RICs members in helping to deliver that strategy, particularly as they work on future government projects.
The conference also featured a presentation by Team Animations Donnie MacNicol and Guy Giffin from Prendo, who are authors of the upcoming Stakeholder Engagement Guidance notes.
Due to be released on 22nd July 2014, the APM and RICS co-produced guidance notes is for anyone who encounters human, as well as technical challenges in their working lives. At the heart of the publication will be the 10 principles of stakeholder engagement, drawn from practitioner experience of what happens in the real world.
With the next event planned for February 2015, Robert believes this years message was clear: In a world where change in context and project operations is increasing all the time, success does not come from ever more sophisticated process and management reporting, but by skilled people who are effectively led and given every opportunity to perform at their best.
View selected presentations from RICS & APM Project Leadership Conference and read Robert Blakemores event review in full.