APM announces next phase of its Strategy 2020 programme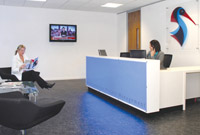 APM has announced the start of work on its new office space at Heron Place in Princes Risborough.
The lease on the office, situated on the same business park as its current offices in Princes Risborough (pictured), was signed in April 2014 to accommodate a growing professional staff and additional meeting space. The facility is due to be fully operational by September 2014.
Securing additional premises is part of a major organisational transformation programme APM started in late 2013 in support of its Strategy 2020 portfolio.
In addition to office space at Heron Place, the programme includes a significant review of its IT and digital capability and infrastructure, together with a transformation of the professional team.
Chief executive Andrew Bragg said: APM has grown over the last decade through a period of intense economic pressure to become a leading player in its field. That growth has provided us with a huge number of new opportunities. The APM board and the Ibis House team have recognised the need to get ourselves fully into shape in order to build on that success.
We have planned for more people, greater IT and digital capability, provided clearer roles and responsibilities for individuals and a structure for faster and more effective decision making.
Andrew, who will be leaving his role as chief executive in December after ten years at APM, added: I am keen to hand APM over to my successor in the best possible shape so that the association can benefit from the many opportunities it has created during its development over the last decade.
With the boards approval, we have planned for an increase of 15 new staff by March 2015. We have already appointed a new IT manager and research manager who represent key additions to our professional team at Ibis House.
I am very proud of what APM has achieved collectively over the last ten years, and I am determined to ensure that APM is ready to serve the profession and build on its past success over the next decade. Securing Heron Place and the investment in people and infrastructure are both key to that goal.
Recruitment for Andrews successor is underway with leading executive recruitment consultants Odgers Berndston further details will be available shortly.