APM announces record-breaking year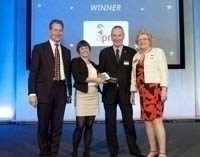 The award-winning Association for Project Management has announced a record-breaking performance for the third year running.
APM, who collected 'Best UK Association' and 'Best Association Conference in London' at the Association Excellence Awards in March, enjoyed record membership levels, qualification candidates and revenue, as well as a sold out conference and awards.
The APM Annual Review 2014/15, published in advance of the association's Annual General Meeting on 9th November 2015, highlights a range of successes including the launch of its Conditions for Project Success research, as well as the re-launch of Project magazine as an in-depth quarterly journal.
Download the APM Annual Review 2014/15
APM Annual General Meeting
The APM Annual General Meeting will take place on Monday 9th November at 6pm at the association's offices in Princes Risborough.
Hear from APM president Tom Taylor, chairman Steve Wake and chief executive Sara Drake on progress and plans for the association as well as the announcement of the results for this year's board election.
Many of the current board and APM's senior staff will be present, giving you the opportunity to speak with them following the meeting over refreshments and a buffet. Please email the company secretary if you are planning to attend.
The agenda was sent to Full members with the election ballot papers and is available online along with the latest annual report.


Photo, pictured left to right: Michael Portillo; Alessandra Porta, The Hurlingham Club; Tom Taylor, APM president; Mary McKinlay, APM Conference chairman and head of awards 2014.