APM Awards 2016 now open for entries!
It's that time of the year again, when project professionals clamber to submit their best and most recent projects for robust judging by a select panel who are determined to find the highest achievers in the profession.
The APM Project Management Awards 2016 is now open for entries, and we're looking for submissions for the various awards categories by 20 June 2016. The APM awards recognise and celebrate what is achievable through project management and has been showcasing excellence in the profession for over 20 years.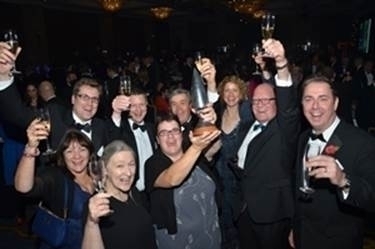 The judging criteria, with revised, more comprehensive, guidance notes as to what the judges will be looking for, recognise the broadening range of possibilities within project management. Winners will be of the highest calibre, and will have demonstrated the invaluable contribution they have made in the various sectors of society. Finalists and winners always attract national publicity and receive a deserved career boost as a result, both at business and at individual level, increasing their reputation and competitive advantage within the industry.
The judges are looking for challenging, complex projects demonstrating the most effective use of project management techniques, the greatest results through innovation and lessons learned for the profession. They will be interested to see the positive contribution project professionals have made to the outcome of their project, programme or portfolio and discovering who has delivered the greatest benefit to their stakeholders. There is a broad choice of categories that provides an opportunity for every kind of project, programme and project professional, from any industry sector, the opportunity to enter.
The Awards dinner, which is this year being held at the London Hilton on Park Lane on the 7 November 2016, is known for being the most prestigious night in the project professional calendar. Winning a coveted APM Award on the night will be the highlight of any career. Details of how to book your place at this glamorous event will be available soon.
Entry to the APM Awards 2016 is free, so there is no reason not to put your submission forward. However, make sure you enter before the deadline of Monday 20 June 2016. Find out more on how to enter.
Awards categories:
Project Professional awards
Project Professional of the Year – sponsored by Atos
Young Project Professional of the Year
Project and programme awards
Project of the Year
Programme of the Year – sponsored by Program Framework
Social Project of the Year
Overseas Project of the Year - sponsored by Ramboll
Other categories
Project Management Company of the Year
The Mike Nichols Award for Inspiration - sponsored by the Nichols Group
Academic awards – sponsored by BAE Systems
Herbert Walton Award
Geoffrey Trimble Award
Brian Willis Award
Please read the criteria for each category and the rules of entry carefully before deciding on which award to enter before the deadline date of 20 June 2016.
Useful links: