APM confirm 'leading revolutionary' Eddie Obeng as conference speaker
Described as an 'agent provocateur' and a 'leading revolutionary' by the Financial Times, Professor Eddie Obeng; a business management educator, author and motivational speaker; will be a popular addition to the impressive list of speakers presenting at the APM Conference on 20th October. Joining Eddie will also be Sarah Craig who is the head of business programmes for Telefnica UK, providing great customer experiences under the brand O2, and Matthew Locke, a past chairman of the Institute of Value Management now currently working for Lend Lease. To celebrate the announcement of these key influential speakers, APM are extending the special discounted rates for the conference until 7th August. Book your place today and you could save up to 90.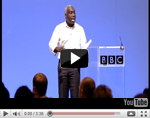 Professor Eddie Obeng (pictured) is perfectly placed to speak at the new world, new project management themed conference as he pioneered the concept of the New World throughout the 1990s. As founder/learning director of Pentacle, the world's first virtual business school, Eddie focuses on helping businesses create and deliver business strategies which allow people to work together to their fullest potential in appropriate virtual organisational structures, using e-enabled information and knowledge to achieve business success in this dynamic New World economy.
Born in Africa and 'brought up with a strong oral tradition' he is a great orator and presenter regularly showcasing his New World philosophy concepts and success stories to large audiences. Watch Eddie in action presenting to a captivated audience during a BBC production.
Professor Darren Dalcher, Director of the National Centre for Project Management, who will be chairing the conference, wrote in his APM blog: Eddie Obeng defines the new world as a world that can change faster than you can learn. As we engage with an ever-growing portion of this world, it becomes more difficult to satisfy all stakeholders whilst delivering value and benefits in a new and unfamiliar context.
Also passing on her knowledge and expertise in the professionalism stream will be Sarah Craig, who will be sharing some great case studies from her role as the head of business programmes for Telefnica UK, providing great customer experiences under the brand O2. Shes created a programme and project management community to support the business on its journey from leading mobile operator to a leader in the digital world. Her team now lead a diverse range of programmes from the implementation of new business lines to the transformation of people and process across existing operations.
Matthew Locke is the ideal addition to the delivering value stream alongside Ian Watmore, as he is a past chairman of the Institute of Value Management and current member of the Certification Board. Matthew has a high profile in the value management community, regularly delivering lectures and training courses on value management to students and business communities. Matthews main role as a senior design consultant at Lend Lease is the value optimisation of projects, which is achieved through the application of value management on projects at all stages from development of briefs, concept options, detailed design to procurement of work on site. He sees value management as being fundamental to understanding a clients value criteria and delivering best value solutions.
Book your place at the APM Conference before 7th August to take advantage of our special discounted rates and save up to 90.