APM Midlands branch BCAG event summary
On 19th July 2019, APM Midlands Branch Corporate sub-committee held the 10th and increasingly popular Corporate Advisory Group VIP Working Lunch exclusively for Midlands Corporate Partner & Affiliate representatives.
The theme for this event was Portfolio Managment and was kindly hosted by WSP at their new offices in central Birmingham.
Corporate Members represented included BOC, DHL Supply Chain, MPP Group, ProjExc PM Consulting, Rider Levett Bucknall, Rolls-Royce, University of Warwick, West Midlands Combined Authority and XPO Logistics.
John Williams (APM Branch Corporate sub-committee) welcomed the attendees and contributors, and introduced the purpose of the Corporate Advisory Group, as well as the theme and goals for the session.
Andrew Wells (WSP Project Lead) gave an introduction to the WSP works in the Midlands.
Stephen Leary (APM Portfolio Management SIG joint Chair) provided an insight into Portfolio Management, building on the new Portfolio Management Guide (published August 2019). The guide captures the experiences of practitioners from over 60 organisations who have presented at SIG conferences and events.
Steve outlined the principles and approach to portfolio management, followed by an interactive session discussing the challenges organisations face implementing and embedding portfolio management.
As normal there was much round table debate during the presentations, with attendees generously sharing their experiences and ideas.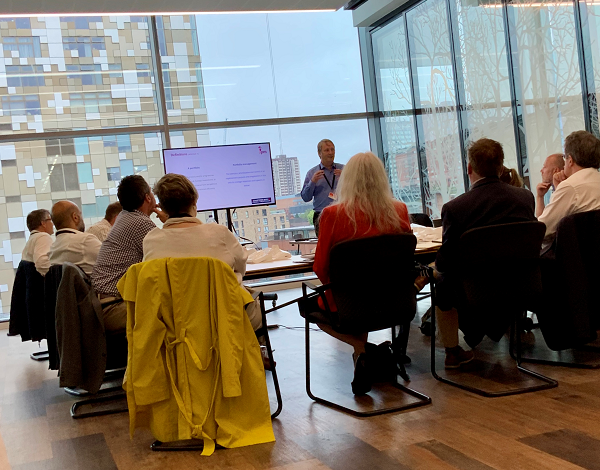 After a buffet lunch and networking, the discussion and experience sharing continued, facilitated by John Williams.  Next, Lesley Lynch (APM Partnership Development Manager) shared the latest news from APM. David Munslow (APM Branch Corporate sub-committee) then gave an update on the next APM Midlands Young Project Professional of the Year Awards.
Throughout the session there were opportunities for peer-to-peer networking between representatives of Midlands corporate partners and affiliates.
We are now preparing the next event in November - please pre-register your interest with our branch co-ordinator Charlotte Bevan, or via your contact in the partner development team.
John Williams
Midlands Branch, Corporates Sub-committee Chair