APM president Tom Taylor to chair leadership event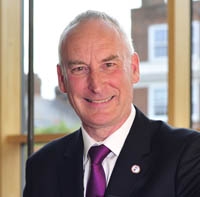 Tom Taylor APM president will be chairing the joint event between APM and Royal Institution of Chartered Surveyors (RICS) along with Anne McCann, who is chair of the RICS Project Management Professional Group.
Tom says: This is going to be a really good event with great speakers who know all about leadership within projects, businesses, programmes, practices, initiatives and institutions. I hope my short introduction will explore some of the differences between just leadership and good leadership.
Tom, a consultant with over 30 years of project management and project leadership experience, will set the scene for the programme of influential speakers looking to transform project leaders delivery, role and efficiency.
First to take to the speaker podium on 27th February will be APM chief executive Andrew Bragg who will talk about the growth of professionalism in project management and how APM is realising the vision of a world in which all projects succeed.
Delegates, who are able to book their place online, will also hear from other senior figures including Julian Foster, project director at Heathrow Airport; Matthew White, surface director at Crossrail; Rob Leslie-Carter, director of global programmes and project management at Arup; Tim Fry, project director at New Moorfields Hospital NHS Foundation Trust; Dr Jon Broome, chair of the APM Contracts & Procurement SIG; Peter Campbell, chairman of the APM Risk SIG and Sean Tompkins, CEO of RICS.
This programme will provide delegates with key lessons learned through case studies such as Beijings spectacular Arup Water Cube. There will be further lessons on a best practice entrepreneurial approach that meet stakeholder expectations, internal clients milestones and the Governments 20% reduction initiative.
Join RICS & APM at this one day, national conference with your decision making colleagues to find out how to define and adhere to your project leadership requirements and aspirations.
For more information and to book your place visit the RICS website.