APM Scotland branch committee election 2019-2020 results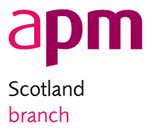 The APM Scotland branch held their Annual General Meeting and committee election at their evening event held at Hilton Edinburgh Grosvenor, 5-21 Grosvenor St, Edinburgh EH12 5EF on 13 June 2019.

The following branch members put themselves forward for election, and were voted onto the Scotland branch for the upcoming 2019-20 session:

Committee members:
Ayo Alagbe
Ralitsa Arnaudova
Louise Benwell
Matt Bruce-Kingsmill
Carrie Canning
Shirley Conway
Martin Dunn
David Fogerty
Alan Glennie
Amos Haniff
Neil Harkin
Alan Harper
Jonathan Herbert
Sunchana Johnston
VIBESH KARAYIL
Michael Lynch
Stacey McQueenie
Garry Murphy
Kenneth Nicolson
Fraser Payne
Richard Pearson
Greg Philp
Adam Quin
Erin Slater
John Stevenson
Nicola Thomson
Immediately following the AGM election, the first committee meeting for the 2019-2020 period was held to elect the roles of Chair, Secretary and Treasurer.
Chair: Matt Bruce-Kingsmill
Secretary: Erin Slater
Treasurer: Greg Philp
Those on the current committee who do not stand for re-election, or are not voted on by the APM membership, will continue in role and on the committee until Saturday 31 August 2019 at 23:59hours for the handover and shadowing window.