APM Volunteer Achievement Awards 2021 winners announced
Association for Project Management (APM) celebrated the achievements and contributions of its volunteer community at its annual Volunteer Achievement Awards.
Held on Friday 19 November as part of the annual Volunteers' Forum, the awards recognised winners and runners-up in seven categories, giving APM a special opportunity to thank the people who do so much to support the project profession. Winners included members of APM regional branches, Specific Interest Groups (SIGs), event organisers, education ambassadors and more.
The results were:
Volunteer of the Year award winner – Kevin Barton

Runner up – Greg Krawczyk

Event of the Year award winner – Risk SIG

Runner up – South Wales and West of England (SWWE) branch

Branch award winner – Thames Valley branch

Runner up – Northern Ireland branch

SIG award winner – Risk SIG

Runner up – Benefits and Value SIG

Education award winner - Systems Thinking SIG (Andrew Wright, Frank Curtolo, Cesar Rendora and Gennadii Miroshnikov – SIG committee members)
Innovation award winner – PCMAF (Planning, Monitoring and Control SIG working group; Deb Perrin, Sue Simmonite, Ewan Glen, Scot Butcher, Oli Cowey – SIG volunteers)
Special achievement award winner – Dave Corbin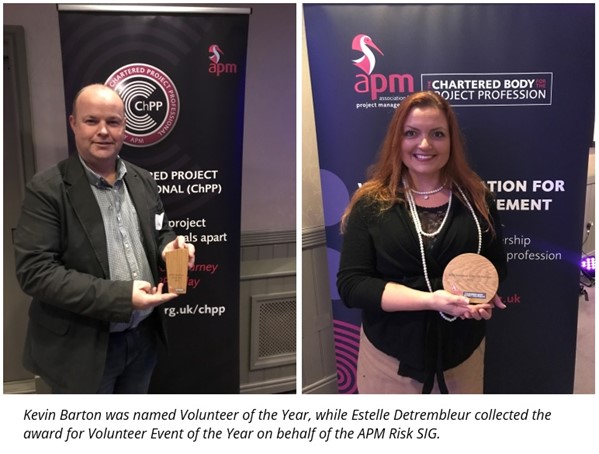 People are the highlight
Speaking after the ceremony, winners and runners up said the awards were important not only for recognising the efforts of volunteers, but were also a valuable reunion opportunity for volunteers who had not seen each other since the start of pandemic restrictions.
Cesar Rendora from the Systems Thinking SIG, which won the Education award, said: "We're surprised and certainly very grateful for the recognition.
"It's good to be recognised for the work that we do as we put in a lot of time to promote systems thinking. We're really delighted – and surprised given the tough competition."
Martin Gosden, co-chair of the SWWE branch, added: "For me, the highlight has been seeing people I haven't seen in two years. It's great to catch up and learn from them.
"I see it as important professionally as well to give back, to reach out to the region's professional needs as a public service, and I am pleased and proud to do this."
As the chartered membership organisation for the project profession, APM is proud to work with committed experts from the project profession who volunteer their time and expertise for the benefit of project, programme and portfolio managers everywhere.
Discover volunteering opportunities with APM
Image: Leigh White/Leigh White Photography