APM volunteers' forum held in Chester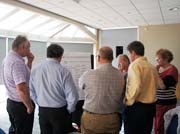 Over 75 APM volunteers, board members and staff attended the latest Volunteers' Forum at Chester racecourse last weekend.
The forum consisted of a number of sessions that included briefings on the latest activities, workshops on future plans, discussions amongst delegates and social events.
On Friday afternoon representatives from APM's Specific Interest Groups (SIGs) took part in a workshop that covered work currently being carried out on APM's knowledge strategy. Following this they received a briefing on a proposal for a new Organisational Change Management SIG before finishing the day with a presentation from APM head of professional standards and knowledge, Liz Wilson, on the APM research and development agenda.
A delegates' dinner was held on Friday evening with representatives from the SIGs, branches, APM Board and staff members.
Saturday opened with an update from APM chief executive Andrew Bragg who gave a rundown of activity from the last six months that included information about the APM Introductory Certificate being available online, work to redevelop the APM Competence Framework, the partnership with the University of Hertford to host the APM library, an agreement with PM Channel to distribute video content from APM events, success of APM's webinar programme in engaging new professionals, as well as commenting on external developments such as the Axelos takeover of PRINCE2® and other products.
A workshop was then led by the APM Board members that allowed volunteers to contribute their thoughts on the review of APM's approach to volunteer activity in support of the current strategy.
As night fell a dinner was held allowing delegates to network with representatives from other branches and discuss items of mutual interest.
Sunday morning was more informal with the chairman of the APM East of England branch speaking about their recent work and how they are innovating and making contact with previously unengaged people.
The forum also heard from APM North West Branch member Mike Ward about his volunteer work with the Forestry Commission on behalf of APM, helping them with the development of their project management capability.
Retiring Branch Steering Group members David Burton and Russel Jamieson were presented with engraved pens in recognition of their six years service in this voluntary role. New group members Tunde Ajia and Kevin Free were also welcomed by those present.
If you are interested in becoming an APM volunteer please discover what opportunities are available.
PRINCE® is a registered trade mark of AXELOS Limited