APM & Wellingtone's project management careers and job fair

The Association for Project Management (APM) and Wellingtone, the project management recruitment, training and consulting company based in Windsor, Berkshire, have formed a unique alliance to provide a career development service to the project management profession. Wellingtone is also an APM accredited training provider and a Microsoft Gold Partner for project and portfolio management.
On Tuesday 10th February over 100 delegates gathered at a London venue to learn more about recruitment from the other side - how to stand out, what employers are looking for and how they find the right candidates. Delegates present also benefitted from the opportunity to talk on a 1-2-1 basis with Wellingtone recruitment consultants, as well as having the chance to see which roles Wellingtone are currently recruiting for.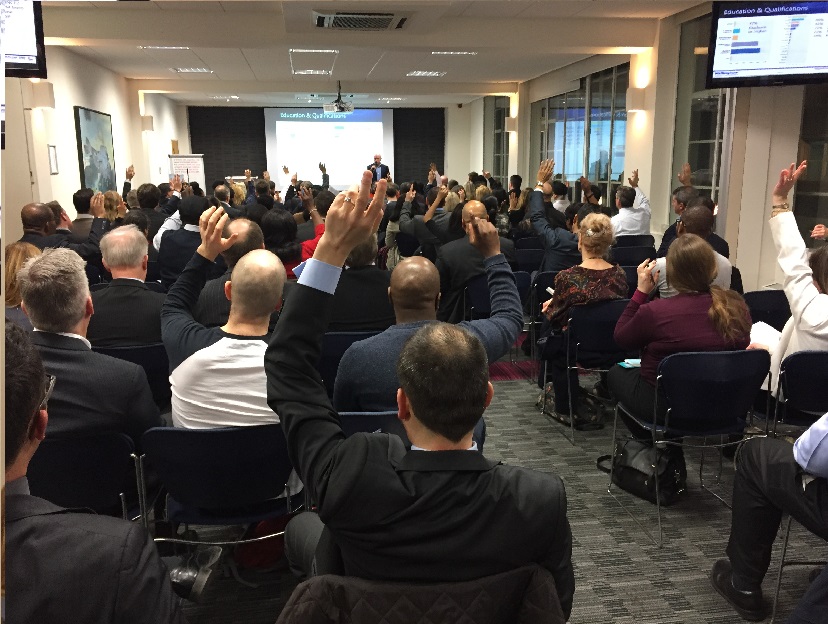 The presentations began with Vince Hines, Managing Director of Wellingtone posing the questions "what are you worth?"

Vince also presented the latest joint Wellingtone / APM salary and jobs research data. This included the latest data on salaries for permanent roles and day rates for contract positions across a range of professional project management jobs. The full report will be available soon so keep an eye out. If you have any questions about this research then please contact Daniel Nichols.
Vince also covered:
The pros & cons of contracting…or moving back to permanent employment, including what you should consider and what day rate should you look for?
Top tips for dealing with recruitment agencies. What to look out for and when to be cautious.
The current state of the recruitment market. Where are the opportunities? Who is hiring and what trends should you be aware of?
Following on from Vince was Gordon Dewar-McKay, Director of Recruitment and Talent Management at Wellingtone, who focussed on three key areas:
preparing your CV (tips & advice)
optimising your CV for job boards, using Boolean Key Words, setting salary expectations to avoid Pidgeon – holing yourself etc
tips & advice on using social media to secure a new role, optimising your online presence, 'dos and don'ts'

Delegates were then treated to a short presentation by Luke Streeter, winner of Young Project Manager of the year at the APM Awards 2014. Luke gave an overview of his journey thus far and a little insight in to his success at
Luke's presentation can be found here.

There followed a networking session with the opportunity to look at a large selection of Wellingtone's currently available roles and discuss them with Wellingtone's recruitment consultants, including our two Wellingtone speakers, Vince and Gordon.

Delegates also had the chance to meet and talk to a small group of representatives of APM's Corporate membership, including Qinetiq, Raytheon Systems Ltd, Lend Lease Consulting, National Nuclear Laboratory, K2 Consultancy Ltd and Rhead Group, all of whom had taken the opportunity to come to this event with internal project, programme and portfolio management roles to advertise, in the hope of finding the right candidate amongst the evening's audience.