Apprenticeships will tackle profession's skills gap, says TfL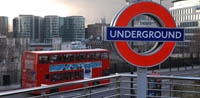 Transport for London (TfL) is piloting the Higher Apprenticeship in Project Management scheme developed to address current and future skills demands.
Andy Eastaugh, head of the TfL Programme Management Office, believes developing future talent will benefit the London transport operator as well as the wider project management profession. He said: "The scheme will increase the size and diversity of our own talent pool and help to address the industry shortage in project management capability and capacity."
While covering the skills gap for future demand, TfL believes the apprenticeship programme, developed by the Association for Project Management (APM) and Skills CFA, will help build a committed and competent workforce thereby "reducing staff turnover" while ensuring "TfL's behaviours and expectations of technical competence are consistently met."
TfL is investing billions of pounds to modernise and improve London's transport network to support more jobs, homes and economic growth in the capital and across the UK as a whole and to do so, it is essential that it invests in a highly skilled workforce for now and the future.
"Whilst we need experienced professionals we also need to help build the profession, by bringing in and developing talent," said Andy.
'Future leaders'
Having run a successful project management graduate scheme for many years TfL now wants to add another opportunity for young talent to join the organisation. "The Higher Apprenticeship scheme aims to attract high calibre people as a source of future leaders in project management, and at the same time to demonstrate social responsibility," added Andy.
"It will also generate new energy and encourage a learning environment in TfL."
By providing an alternative entry point TfL believes the scheme provides access for talented people who may not have reached the company through the traditional graduate route.
The Higher Apprenticeship scheme at TfL, which is open to individuals who are 18 years and over, will provide apprentices with both classroom-based training and placements around the business. This will help them to gain a broad knowledge of different types of projects, and an understanding of what it takes to provide a world class transport system for the capital.
With lots of hands-on training at various locations across the TfL network, apprentices will develop into a project management professional who displays strong technical competencies such as planning, health & safety management and cost management, and have the ability to engage, communicate and collaborate with all stakeholders. The pilot is initially focussing on two key areas (Stations and Surface) of TfL's business, but has the potential for expansion.

'Potential for expansion'
London and its transport system continuously face major challenges. It is forecasted that, by 2031, there will be around 1.25 million more people and over 750,000 new jobs in the capital. The provision of reliable and efficient transport, with the capacity and connectivity to accommodate this growth sustainably, is crucial to the continued success of the London and UK economies.
TfL project delivery staff ensures that projects are delivered to reliability, safety, cost, quality and time targets and the transport system runs as smoothly and efficiently as possible during this period of major upgrades. "With this anticipated growth in demand and a continuing cycle of maintenance it is essential for TfL to develop quality project managers for the future," said Andy.
TfL has joined the likes of Sellafield Ltd, Lloyds Banking Group, BAE Systems, Rolls-Royce, EC Harris and British Airways to invest in new talent by creating places on the Higher Apprenticeship in Project Management scheme.
'Develop young talent'
TfL, who are a corporate member of APM, have a long standing relationship with Europe's leading project management professional body. "With the introduction of the Higher Apprenticeship in Project Management, it was a natural choice for TfL to partner with APM to develop young project management talent," concluded Andy.
A Higher Apprenticeship in Project Management, which is equivalent to the first year of a degree course, will provide aspiring young professionals with the opportunity to develop competence, skill and knowledge-sets and make project management a career of first choice.
The aim of the programme is to create new pathways into the project management profession, improve the management of projects and embed vital project skills in organisations throughout England and Wales.
If your organisation is interested in learning more about employing Apprentices please contact APM. Alternatively, for more information about the scheme please visit the Higher Apprenticeship in Project Management webpage.
Related stories: