Avoiding conflicts before they arise
Nick is CEO of Ngagementworks, a learning and development company, whose purpose is to engage individuals and motivate teams and in doing so, help them to transform and achieve even greater success.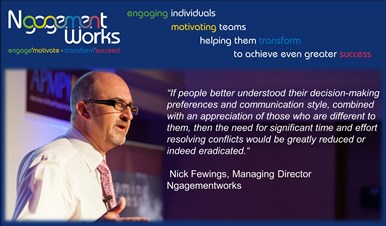 Nick started his presentation with a question about what people discuss at project team meetings.  The audience provided the usual answers about risks, progress, but as Nick pointed out, did not mention personal or team relationships. 70% of business change projects fail to deliver their desired goals. The main reasons being poor leadership, poor understanding of team skills and little understanding of team, all of which are people issues.
Nick defined conflict management as is "the practice of recognising and dealing with disputes in a rational, balanced and effective way."  Ideally you should aim to avoid conflict as it is difficult and expensive to deal with afterwards.
Conflict often arises because team members do not understand and therefore appreciate and value behavioural differences, and there is confusion about how the team operates effectively.
It is important to understand your own psychological preferences as well as each other's. Carl Jung's work in this area underpins a number of tools such as Meyer's Briggs, Belbin, as well as Insights Discovery model, that Nick is a Licensed Practitioner of. Jung identified a number of preferences. Attitudinal preferences, around Introversion and Extraversion describes how we react to inner and outer experiences. We can all do both, but each of us has a preference. Functional preferences cover thinking and feeling, which deal how we make decisions and sensation and intuition, which deal with how we take in and process information.
The Insights Discovery model, at a top level, identifies 4 differing personality traits:  Fiery Red (Competitive, task focussed), Sunshine Yellow (Sociable, creative), Earth Green, (Caring, sharing), Cool Blue, (detailed, analytical).
 
Nick gave each of the audience an envelope with 4 cards, and asked them to look at the adjectives describing each personality and to put them into the order of how they perceived themselves to be in work. He then discussed each type in turn for good days, the positive aspects of the personality, as well as for bad days, the negative aspects when you are feeling under stress.  People with opposite preference can either clash or complement, depending on whether they value and appreciate their differences.  A balanced diverse team with all of the psychological preferences represented are more likely to perform better, but it is important that the team recognises their own strengths and weakness as well as each other's. People are all different, and we should value and appreciate these differences.  Psychological preference tools can help a team understand each other clearly and easily, and identify gaps which could be filled to achieve a balanced team.
The other challenge is confusion around how a team operates. An engaged team is more likely to work together to achieve success.  Nick described a model based on his research which can help understand team dynamics and identify potential issues needing to be addressed. The Team Dynamics Model© that Nick has created, identifies 16 elements which are important for an effective and engaged team.
The top three elements are:
1. Purpose. Knowing why the team exists, what this enables and the benefits it provides.  Nick suggested asking your team individually – you are likely to get very different answers!
2. Trust. This is about the emotional bond that glues the team together.
3. Planning. Knowing what needs to be done by whom and when.
The other elements are covered by the slides.
If the 16 elements are managed well, then the team should become highly effective and increase the likelihood of successfully delivering the projects required goals.
Nick highlighted the use of the Team DyNAmics© tool with a case study.  The tool can also be linked to the colour model. As with any such tool its purpose is to hold a mirror up to the team / organisation to help them understand their strengths and where they can improve and change. These tools help initiate dialogue in the team on how to move forward.
Nick concluded that project success needed both project management methodologies and tools as well as good relationships, and team dynamics.  Understanding your self is the first step. 
 
A copy of the slides is available on the Slideshare page of the APM website and for ease, a copy has been placed below.
Martin Gosden
SWWE Branch Chairman