Benefits management implementation at STM
Benefits Management SIG met for their regular committee meeting on the evening of 24 March. On this occasion the trip to TfL offices at London Bridge was particularly special as the committee meeting was sandwiched between a presentation from colleagues Francine Belzile and Sophie Rebello - experienced practitioners at the cutting edge of benefits and portfolio management with the Socit de Transport de Montreal (STM) and the Christmas social!
Benefits management implementation at STM by APMProjectManagement
Francine and Belzile had previously approached Tanya Durlen, Portfolio Manager at TfL and Benefits Management SIG committee member, with a view to meeting-up to share experience. SIG members leapt at the opportunity to extend pre-existing international relations, for example through John Thorp, also in Canada, and others in Australia and New Zealand.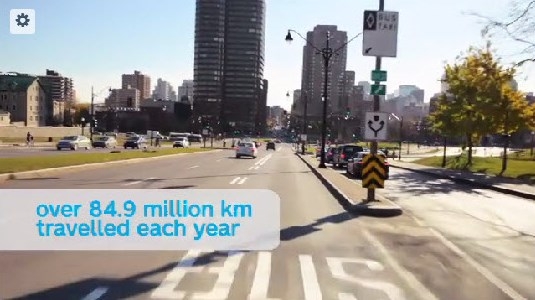 Francine began her presentation with a potted history of the STM. Today, it is an organisation of more than 9000 employees, an annual operating budget of $1.2BN and in 2011 accounted for over 400M passenger trips. STM aims to increase this to 540M trips as part of their own 2020 strategy.

Back in 2005 STM were faced with a familiar problem of having an increasing number of projects, limited financial and human resources and significant pressure on operations. They needed to make better project choices without jeopardising existing ones.

The solution was to implement project portfolio management as an evolutionary approach, incorporating best practice and engaging employees so far as possible.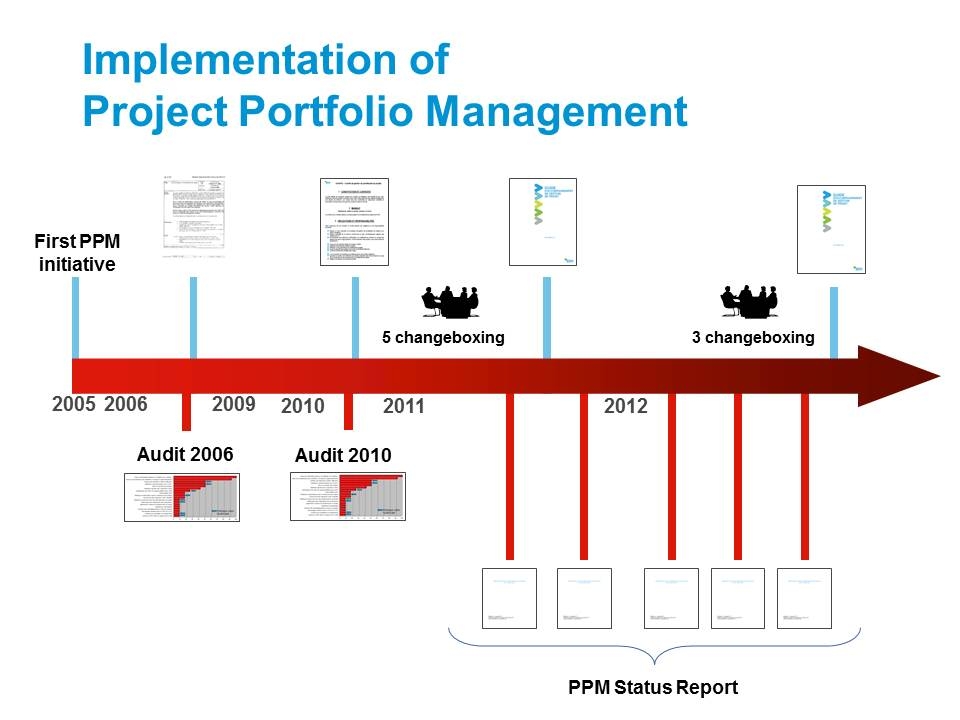 Francine explained their journey from 2005 to date emphasising the importance of regular audits including the innovative use of changeboxing. Changeboxing is a format where you bring 15-20 people together in a room, for 3 hours say, with the objective of designing a form, process or something similar.

Subsequently, the output can be improved but what really matters is that there is something ready to use immediately.  This a form of rapid application development (RAD).

The top two expectations from the 2010 audit were increased project portfolio monitoring and accountability and additional work on benefits management. However, they were advised that there were a number of capabilities that needed to be in place before they could implement benefits management.

The composition of the programme and portfolio categories were interesting with the lion's share of all projects in the maintain assets category (123, 72% of budget) with a far smaller share in the categories of 'attract, develop and mobilise talent' and 'further improve performance' (33 projects, 2% of budget)

Implementation of benefits management

They had learned that you cannot achieve benefits management without change management. Both required teams of people. STM defines benefits as "An advantage / earning realised when the project is delivered and perceived as so by the stakeholders."

Francine explained that baby steps were necessary, even to the point of reaching consensus on a couple of simple forms through the changeboxing method. The second of the two forms is about individual's commitment as accountability had been lacking in STM culture.

When they revisited activities specific to benefits management, such as identifying targets, approving projects and tracking benefits, they had realised that these should be integrated with existing information management. It didn't make sense to create something different to what they already had.

She had contacted Jean-Marc Proulx (2014) formerly of Fujitsu, results chain fame, who had developed a system called Macroscope that combines project management, portfolio management and benfits management. According to Mr. Jean-Marc Proulx, BRM essentials require integration of results chain and balanced score card of the system driver.
However, Francine had been faced with a 'no-win' situation. If she had implemented the results chain method too quickly people would have gone 'crazy,' hence the introduction of simple forms. However, this was considered too simple by some - trivial even.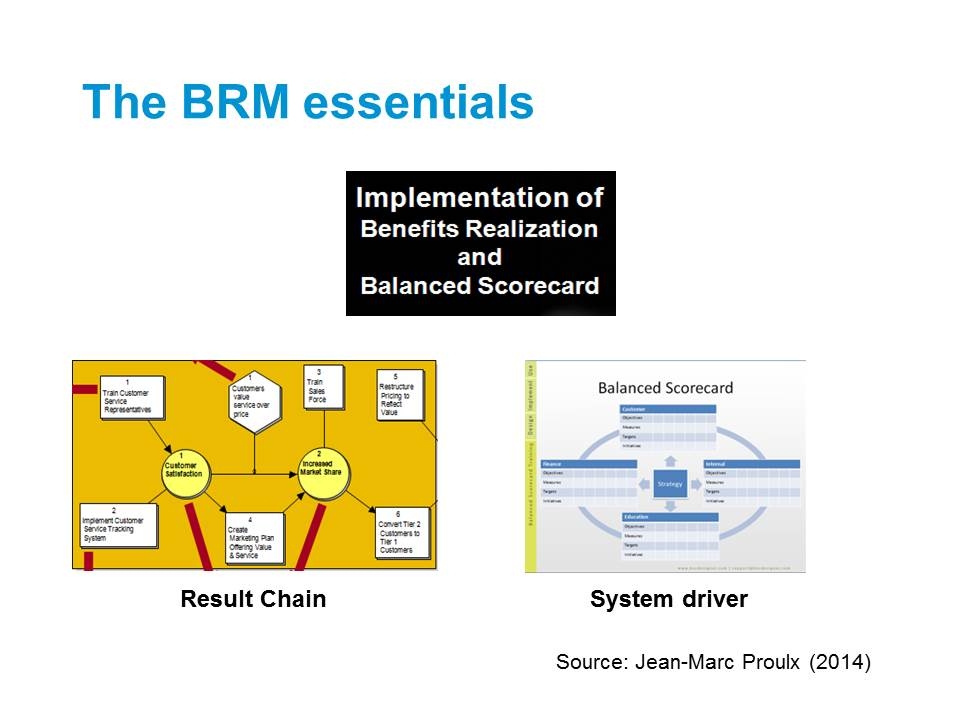 Sophie, who had taken over from Francine at the coal-face in summer 2013 when Francine moved to Munich with her husband, took up the story.

The audits of 2010 – 13 were generally favourable with the recognition that prioritization of projects and strategic alignment of the project was in the mature stage – i.e. could be repeated and done consistently well, and benefits management represented a significant measure of project performance.
This, in turn, led to current objectives, for next three years of sustainable operationalization of benefits management and improved integration between project management and operations. However, Sophie felt that whilst 'the wheel is now rolling the speed is not there yet!'

People need to be challenged and refocused and as a result STM has now added the requirement to develop an action plan for all projects, which tend to arrive piece by piece - every project in itself is a worthy project!
When it comes to tracking planned benefits it was sometimes like a 'game of ball' with the ball being tossed between projects and operations. Both teams need to have accountability at the appropriate levels and the linkages between the need testing. It certainly helps where a person responsible for the KPIs in a particular sector is made responsible for results and benefits.

Benefits and the change challenge

Sophie believes that most beneficiaries welcome change but STM hadn't put enough effort into the change management or process improvement that needs to happen. For example if you move a user from a Word table to Excel, and if all they do is input the same numbers in the same grids, without doing any calculations, it doesn't provide a benefit! In this example people initially become excited about getting new software but day to day activities take over and it's just business as usual!

People feel that it is a challenge to find things that you can measure, or formulating benefits in a manner that it meaningful to the organisation. Another problem is people accepting accountability, which can be easily resolved by management – "it is part of your job!"

Simple forms had worked their magic in getting things moving but now this was seen as insufficient to track realised benefits. However, it was not practical to retrofit to projects that were already in flight. STM have introduced a new team to deal with process improvement and innovation.

Sophie, in the UK to gain her APMG Managing Benefits qualification, recognised optimism bias in STM projects – justification for the business case. She felt that people truly believe that these things will happen but the assumptions are not necessarily sustainable.1

A recommendation for clearer parameters and mechanisms has now been addressed as STM has now organised benefits categories by impact – e.g. growth, satisfaction, commitment, optimisation and sustainability, with clear targets and enhanced reporting for each.

Clearer roles and responsibilities are being addressed by strengthening the role of the sponsor. The sponsor defines success factors and establishes benefits targets linked to project objectives for the project manager and, in turn, is accountable to the portfolio manager.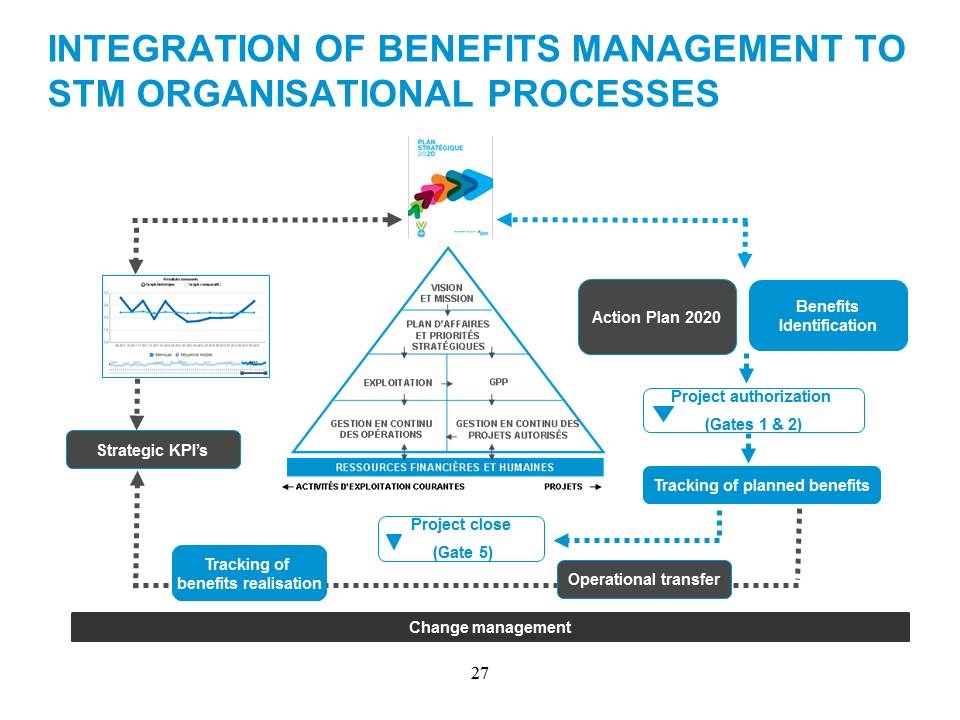 Sophie's plans for STM include; the development of revised benefits realisation templates and support tools, creating a repertoire of standard measures and a review of the project strategic evaluation criteria to increase the weight of project-related benefits.

Sophie referenced our conversation triggered by an earlier short journey in a cramped lift on the way to our meeting within the TfL building. So how do you measure the effects of over-crowding or the impact a new bus line on an existing metro line? These were areas where we could learn from each other.

Sophie and Francine concluded by extending an offer to collaborate further – in particular to explore benefits of creating a forum / interest group to share knowledge on transport-related benefits.

1 'strategic misrepresentation / lying [See Steve's presentation on Managing benefits – optimising return on investments, in particular 5 – 15 mins 40 see references to the mayor of Montreal on the 76 Olympics "It is no more possible for the Olympics to lose money than it is for man to give birth to a baby. I am afraid he was wrong. It took the citizens of Montreal 33 years to pay off the debt. They had the highest tax rates in the Western Hemisphere …" and his subsequent references to Strategic Misrepresentation, or lying.