Benefits Summit 2015 - Our quest for success in the project management temple of doom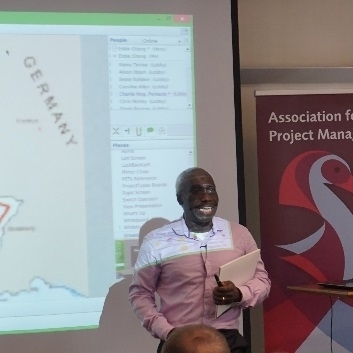 If you want an unbiased objective view of Eddie's presentation then I'm sorry but … this is not it. I had felt for some time that Eddie would be just the right person to provide the keynote presentation at our inaugural Benefits Summit. It is perhaps not surprising that I had more or less stalked him until he agreed to speak. After all he was the star of APM Conference, his Smart failure TED talk had continues to trend on YouTube and we had spent quality time together in Qube.
Eddie's Conference Dilemma
Eddie had recently written an article entitled Back to Bite You that first appeared as an editorial piece in Project Magazine and subsequently as an APM Blog in the lead up to conference.
In it Eddie explains his pre-conference dilemma - 'if I tell you the truth you will probably throw tomatoes at me!' His challenge to project and change managers, who have the power [and responsibility] in their hands to change the world, how are you able to sleep at night?
Eddie continued by telling three short stories to illustrate the five stages of successful project management and how initiatives, even though undertaken with the very best of intentions, can go disastrously wrong.
Three stories of projects with unintended consequences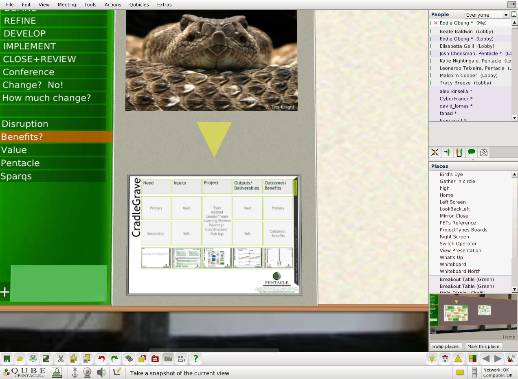 Story number 1. Rattle snakes in Scottsdale Arizona where the mountains became too dangerous to walk in due to the continued presence of silent rattle snakes.
Number 2. The Maginot Line where an elaborate system of fortifications and labyrinth of tunnels built to thwart a German invasion were simply skirted around.
Number 3. 'Bare Branches' in China. This one really struck home to me. Tragic unforeseen consequences following on from the implementation of a "one child policy" designed to reduce population and increase growth.
Policy makers, and those responsible for delivering benefits need to look into the future and be aware of undesirable effects. There are always going to be those that will seek to frustrate even the most apparently sensible scheme – what tricks will they play? What will the criminal fraternity do?
Five stages of successful project management
There are five stages to making something that gives you a benefit, namely:
Really understand the need
Assemble the inputs – resources – guns [rattle snakes again] – people
Deliver the project
Measure the outputs – you can count the number of dead snakes
Outcomes are what matters – a safe place to walk, German invasion stopped or the population reduced for greater industrial growth
Ask Questions to engage the Emotions
Eddie explained why he likes to tell stories and ask lots of questions. It's to engage the audience at an emotional level. He knows how humans are wired. It is certainly not for change. In the grand scheme of things humans are 'rubbish animals.' If they see change happening close to them they regard it as a threat and three things immediately happen.
"It [change] takes your modern brain and throws a huge switch and turns it off because thinking will always be too slow in dangerous situations. Then it makes you really really scared. It fills you full of adrenalin and you fight or flee. If you are not eaten the drug level comes down, your fear level comes down and your brain switches back on and then you begin to plan how to overcome a similar danger next time."
So, as a project manager who unwittingly approaches others to tell them about how things are going to change shouldn't be surprised when their brains switch off. These stakeholders are in an emotional state and there is no point in attempting to use logic as they can't actually hear you. If you don't get human beings on board you have already failed. Hence the need to ask lots of questions. 
A Business Case in five minutes using a PET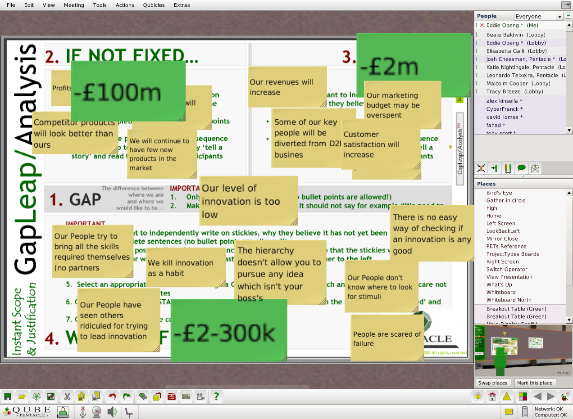 Eddie then fast-forwarded to demonstrate how to create a business case in 2 to 3 minutes using a technique called a 'gap leap' which is one of the Eddie's Qube PETS [Performance Enhancing Tools]
The technique basically involves getting a bunch of people together to discuss the issues. What's the real problem, what's the real need and what are we going to do about it?
He then used an example from his own experience where a large company was seeking to increase the amount of staff innovation. Although Eddie probably took nearer to 5 minutes to turn the handle and produce a viable business case it was no mean feat. As always his explanation was compelling, entertaining and all round good learning.
Don't just take my word for it - you can listen to the full presentation here.
Eddie reckons that the other reason that we make our lives so hard is that the world has changed around us and we haven't understood it. Cue another story.
Time Travellers from Beaconsfield
This was a hilarious parody of how our working lives consist of the production of billions of emails that 'swish' about occasionally punctuated with conference calls. All based in twentieth century offices. Eddie's definition of a conference call struck a chord for me "one person talking and 12 other people doing their emails."
A further challenge then - Are your projects [or the way you run them] really fit for business in the 21st century?
It's all about value
And finally, and to illustrate the fact that the benefits are not the goal - it's value that matters – another story.
People love Ryan Air but they are not the same people who love travelling on Emirate first-class. Both think they get value. So why is this? It's because value equals benefits minus costs. And costs aren't just financial. They are emotional, relational and everything else. So, if we focus on benefits it's good. However, as project managers, the question to ask is 'what value do we actually bring to transforming the whole world?'
Back then full circle to the issue of why project and change managers should have trouble sleeping at night.
Take a look at the Mindmap from Eddie' presentation from which you can download the podcast and further information. http://bit.ly/summitmmap1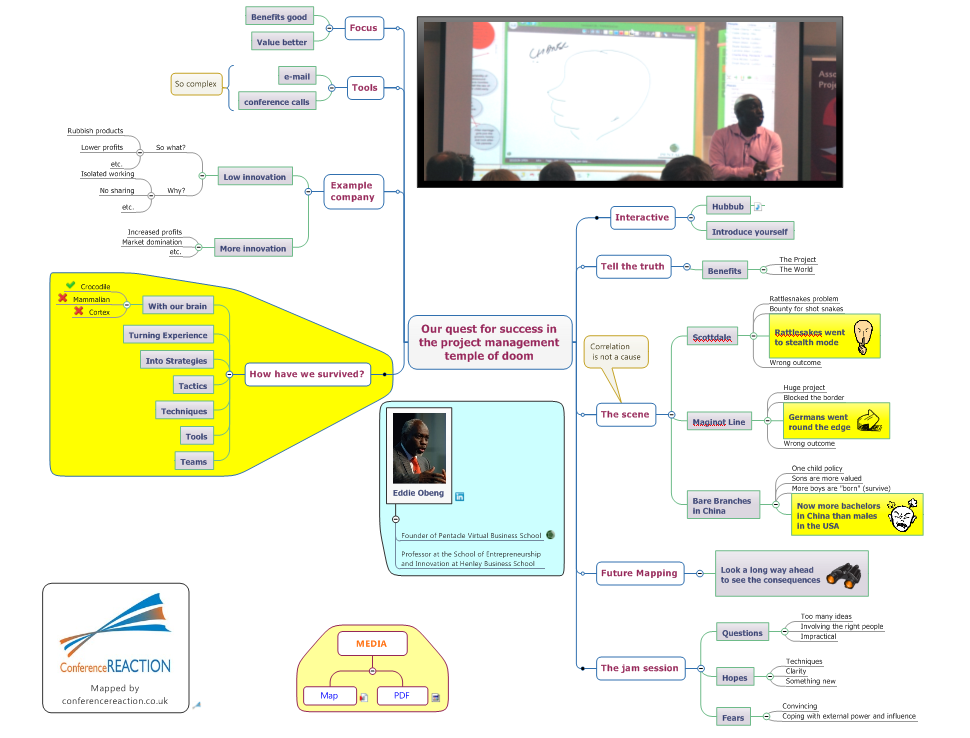 Prepared by Merv Wyeth.