Benefits Summit 2016 - Challenges and lessons learnt at DVLA - case study write up
About Suzanne Richards
Suzanne has worked across several areas at the DVLA for over three decades, providing the platform for her current position as a benefits realisation assurance manager in the Finance Department.

Working in a change environment for 10 years gave Suzanne in-depth knowledge of benefit identification to support the justification of initiatives. This led her to follow a passion for Benefit Realisation Management (BRM) which was introduced in the Agency over 13 years ago.

She now leads on Benefit Assurance for all projects and programmes. This role involves promoting and sharing best practice to all departments, including delivering benefit events and awareness sessions to internal and external stakeholders.

Introduction
Suzanne gave a presentation describing her experience of implementing Benefits Realisation Management (BRM) at the DVLA. Suzanne started by highlighting the scale of the Agency. DVLA holds more than 45 million driver records and 39 million vehicle records and is responsible for collecting around £6 billion a year in Vehicle Excise Duty (VED). It should be noted that any change programme at the agency has an impact on the business.

Suzanne explained that it had taken over thirteen years to achieve the current level of benefits management maturity in the Agency, and that many lessons had been learned along the way. Suzanne was keen to share her knowledge with the audience.

The first step in the process was to ensure that everybody understands the function, and basic principles, of Benefits Realisation Management.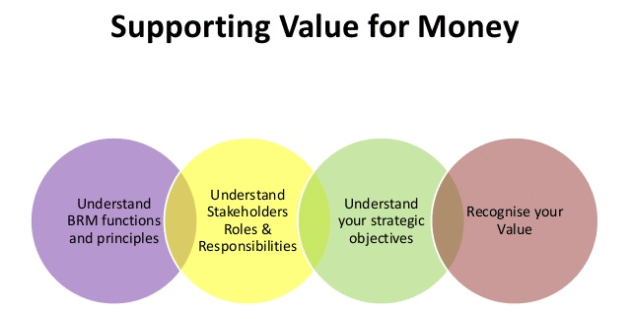 Significant effort has already been invested in embedding BRM into the Agency - for example through staff engagement events such as workshops, awareness sessions and training. This was necessary at all levels: 'bottom up and top down'.

The DVLA Benefits Assurance Team have learned an important lesson, namely, that inter-related business areas need to work together to ensure benefits are correctly identified and successfully realised.

This diagram is known colloquially as the 'DVLA Circle of Life'.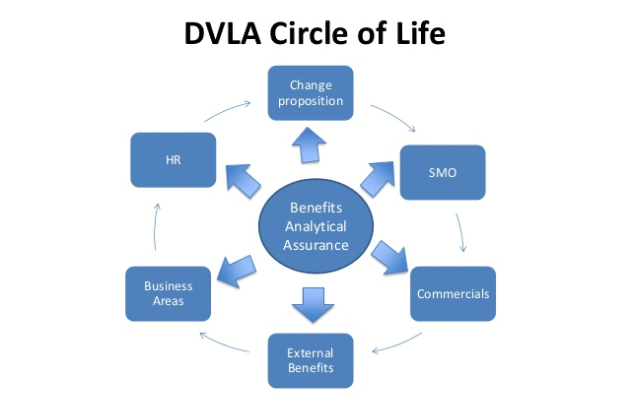 As a matter, of course, extensive work is undertaken to provide analytical assurance at the Agency. This ensures that any, and all, assumptions used to underpin business cases are realistic - the key is to keep things simple.

All projects and programmes are required to state the benefits and analytical assurance confidence levels (Low, Medium or High) to provide the Executive Team with the appropriate information needed to make investment decisions.

The Agency has implemented a Benefits Scorecard to enable transparency and visibility in the monitoring and tracking of benefits both during, and post, implementation.

Suzanne impressed on the audience the need to hold regular stakeholder meetings to ensure continuous engagement and that benefits owners are completely clear on their responsibilities.

It is a mistake to assume that just because there has been lots of up-front preparation that benefits will be automatically realised. On the contrary, effective BRM takes time, effort and continuous management.

A Post-Implementation Review (PIR) for each initiative is undertaken to ensure that any learning is fed back into continuous improvement at the Agency.

It was abundantly clear that substantial progress has been made at the DVLA and it was fascinating to hear the detail about how this had been achieved.
---
Also available from the Benefits Summit 2016 conference: