Candidate biography - Nick Johns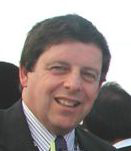 I have over 35 years experience working in project, programme and portfolio management, both in the private and public sectors. I was a Director in the Senior Civil Service until 2008 responsible for multi-million pound programmes before which I worked in the private sector for over 20 years at various levels. Currently, I am a Director of GPPC Limited.
I am an APM Fellow with an MSc in Project Management and a MBA. I am also Chair of the SIG Steering Group, a member of the Membership Panel and Professional Conduct Committee, a Judge for APM Awards, Study Tour Award and National Planning Awards and a reviewer for the IJPM.
I have multiple links with various universities globally and have represented the APM at the 2011 Brisbane, the 2012 Crete and 2013 Dubrovnik IPMA World Congresses. I am also a Visiting Lecturer at Leeds University, supervising MSC dissertations in project management.
I believe this is a critical time for the APM and wish to contribute to the implementation of our 2020 strategy whilst preserving the best of the current APM model. I support taking an organizational strategic view of change, but without losing sight of the more basic needs of the people who make up the life blood of the organization. I believe that the APM needs to evolve to meet the needs of the 21st century with a new structure and flexibility, but without losing our core beliefs and sight of the value of the individual member. Thank you.