Charity becomes first to achieve APM Corporate Accreditation
Leading animal charity Blue Cross is the first ever UK charity to be awarded APM Corporate Accreditation status. The accolade was given for its PlanIt Blue Corporate Approach to Project Management programme.
These skills are important for successfully managing key projects such as new builds, refurbishing centre facilities (for example providing new kennels or cattery facilities), developing a new database for veterinary and rehoming services, and for the ongoing programme of new shop openings. It ensures resources are used to the maximum and helps prevents problems occurring such as costly over-runs or project delays. The award allows Blue Cross to join an elite group of only a few dozen high profile corporations including Rolls Royce, Siemens and EDF Energy who have been recognised for the quality of the way they manage major corporate projects.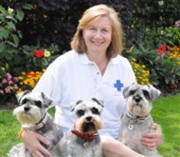 Chief Executive of pet charity Blue Cross, Kim Hamilton (pictured), said: Animals are central to the work we do, but with demand for our veterinary and rehoming services rising, how we manage change is key to our success.
Being awarded this professional accreditation shows how Blue Cross is shaping up for the future and committed to developing its pool of talented professionals. Our supporters and partners can have added confidence that we run our projects in an effective, measured and structured way.
Accredited organisations and companies are able to attract and retain the best project management talent in the country. The assessment of an organisations professional development scheme gives partners and stakeholders confidence in its dedication to developing project professionals.
Andrew Bragg, Chief Executive of the Association for Project Management, said: For over a hundred years Blue Cross has been helping animals in need. Its great to have the reassurance that, as they manage future projects, organisations who work with them will have added confidence in their ability to achieve their goals. I am delighted that a leading charity such as Blue Cross places effective project management at the heart of what it does.
Blue Cross helps tens of thousands of animals each year through its network of rehoming centres, veterinary hospitals and clinics. We rely solely on public donations and in the current economic climate, the need for effective and efficient project management is more important than ever.