Chartered Status remains top priority for APM
The following in-depth interview with Andrew Bragg is reproduced from the March 2010 issue of Project magazine.
Youve been maintaining a dignified silence about Chartered status for a number of months. This is quite frustrating for those of us interested in the progress of the application. Can you explain why youve taken this stance?
As you might expect from the professional body for the UK project and programme management community, weve set out to ensure that we learn the lessons of other organisations who have successfully achieved Chartered status. Two points stand out: the first is that maintaining a dignified silence is absolutely necessary to allow the due process of consultation amongst the Queens Advisers to take place. The second is that silence could easily be misconstrued as inactivity, which was always likely to be an uncomfortable position for us to be in. We have done as much as we possibly can to keep people informed of the progress of the application and the reasons for the silence, but it has been difficult because project management and dignified silence do not always go hand-in-hand.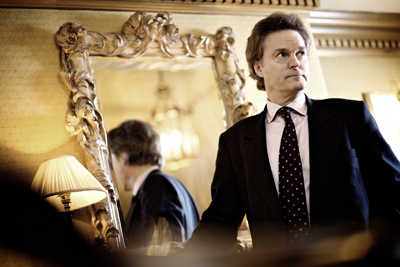 So what is the current status of the Chartered application?
Chartered status, of course, has been discussed by those within the profession for a number of years because it is widely recognised that it offers formal recognition that a profession has come of age. It was about three years ago that following the change in our governance, the reconstituted board considered its objectives, and Mike Nichols, the new chairman, with full support of the entire board, directed that the top priority should be to gain a Royal Charter as soon as possible on behalf of the UK project management profession.

The fact that APM received such explicit written support from a full 50 government departments, blue-chip corporate organisations and other leading professional bodies is unheard of in the history of Chartered status Mike Nichols and the APM board should be proud of their role in securing such backing. With hindsight, this level of support led us to set ourselves extremely ambitious planning targets, even though we fully recognised that the decision-making process was outside our direct control.

We acknowledge that progress in the latter stages has been slow beyond our initial planning assumptions but as far as the actual process is concerned, were committed to achieving Chartered status as a key priority within as short a timescale as possible. So we continue to engage directly with the decisionmakers, whilst maintaining our dignified silence in public.

Does this mean that there is a delay in pushing forward the associations professionalism agenda?
No, the Chartered campaign has created a huge momentum for raising professionalism within project management. The absolute determination of our chairman, Mike Nichols, that nothing whatsoever will dent this momentum typifies our conviction. For example, in January we launched our microsite dedicated to APMs 5 Dimensions of Professionalism, www.apm5dimensions.com this site is a taster for the major re-launch of the APM website in May 2010. In February, the Office of Government Commerce launched its government-wide Competence Assessment Tool, based on the APMs Competence Framework. And from April 2010 we intend to forge ahead with the pilot of a new APM project professional standard.

Of course, there have been a few rumours surrounding the application. What would you say to sceptics who claim that project management has not yet matured as a profession?
I would say that they are wrong. All the formal hallmarks of a profession are in place includingrecognised qualifications and experience; breadth and depth of knowledge, supported by a professional competence framework and continuing professional development; the commitment to the profession and the protection which are both offered by a code of professional conduct; and robust complaints and disciplinary procedures.

These hallmarks are supported by a range of external indicators i.e. the dramatic increase in academic institutions offering project management courses; the rise in entrants to the profession recognising project management as a career of first choice; the increasing quality and reach of APMs Project Management Awards and Conference, and the admission of our International Journal of Project Management onto the Thomson Citation Index (the first journal of the profession world-wide to achieve this accolade). All of which point to the increasing maturity of the profession.

In parallel, APM has itself matured as an organisation. Mike Nicholss drive to focus the APM board on high-level strategy and policy formulation, allowing the APM Executive to focus on effective implementation, has played a key role in securing support for APMs Chartered application from other leading UK Chartered bodies, such as the Institution of Civil Engineers, British Computer Society and the Royal Institution of Chartered Surveyors a ringing endorsement if ever there was one!

At the same time individual membership of APM continues to grow, pan-sector corporate members continue to underpin their project and programme management communities with the APM Body of Knowledge and APM Competence Framework, and the association continues to raise standards through participation with BSI and ISO activity and knowledge generated by APMs Specific Interest Groups.

When taken as a whole, all the evidence suggests that as an organisation, we are well-placed to serve what is now a mature profession and you only have to look at a respected chartered organisation like the British Computer Society, which was founded in 1957, to realise that it is quality and experience rather than age on its own which really count.

You mentioned that youre piloting a new standard in professional project management in April, tell us some more about that.
I think we can all agree that professionalism is important project and programme management are vital contributors to the UKs economic interests and are critically relevant in todays fiercely competitive domestic and international markets.

We know that the total expenditure on projects in the UK is vast according to the National Audit Office, the top 43 most complex projects in government alone are worth 200 billion and the public benefit is well served by effective utilisation of that expenditure through efficient cost control, successful delivery of planned benefits and achievement of deadlines.

But after working closely with public and private sector stakeholders over the last year, we have identified that everybody has a different idea of what professionalism in the sector looks like. We also discovered that, although these differences of opinion exist, there is a well supported requirement for a single recognised and valued quality professional standard in project management.

So after consultation, we have started to define the APM standard of professionalism as comprising five dimensions, namely: breadth of knowledge, depth of competence, the demonstration of achievement through professional qualifications, commitment through continuing professional development and accountability through adherence to a code of professional conduct.

And as APMs major strategic objective for the next few years, weve committed the organisation to increasing the awareness and achievement of these five dimensions of professionalism right across the many organisations committed to the improvement of project management capability.

An expert working group, drawn from leading commercial, public sector and training organisations, has already created a draft standard of great integrity and relevance to the fast-moving profession of project management. Our next step will be to pilot this professional standard in project management from April 2010 onwards.

Is the proposed professional standard geared exclusively to APM qualifications?
Absolutely not in keeping with the image of a modern profession, the routes to achievement of the standard will be rigorous, yet diverse and flexible, reflecting the wide range of career pathways by which professional competence in project management can be achieved.

Why would potential employers place a premium on a project professional who meets this professional standard?
UK professional bodies traditionally operate a professional standard to identify practitioners who have satisfied rigorous tests of competence based on knowledge and experience, together with providing evidence of commitment to a code of professional conduct and to continuing professional development compliance with the standard provides reassurance to the public of the level and currency of the practitioners competence.

This holds true right across the professions, whether for marketers, accountants, engineers, human resources or IT professionals. The proposed project professional standard will fulfill exactly the same role, and it is for this reason that we have worked closely with major employers in the public and private sectors alike to make sure that the professional standard truly meets the needs of the community. To ensure parity with other Chartered organisations, we have also modeled our proposed professional standard so that it aligns with that of the Engineering Council.

The benefit to the employer is that it helps increase the quality of project delivery through the structured development and support of professionals. This is benchmarked against the profession as a whole and should inevitably increase the likelihood of successful project delivery, everything else being equal.

What driving thought keeps you going during this campaign for enhanced professionalism?
I think that Victor Hugo could have been describing project and programme management when he observed that: There is one thing stronger than all the armies in the world, and that is an idea whose time has come. I am sure that he would have approved totally of APMs drive to gain recognition for the profession and of APMs unstinting commitment to gain Chartered status.
More details about Chartered status and the APM Professional Standard can be be found on the APM website.