Chartered success for husband and wife Sheila and David Roberts
Sheila and David Roberts are both Directors at CUPE International – a specialist project company which delivers consultancy and training in Project Portfolio Management (PPM), as well as being an APM Accredited Training Provider (ATP).
Sheila and David have both been successful in achieving APM's Chartered status (ChPP) – the internationally recognised benchmark standard for the profession – and as such are now included on the Register of Chartered Project Professionals.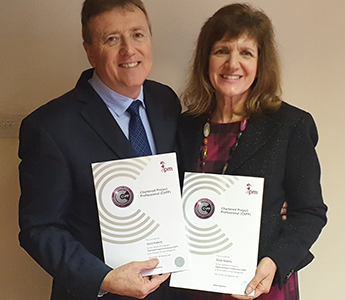 As husband and wife both working within the project profession, they feel strongly about gaining the highest standard within their field and understand that having Chartered status provides clients with the confidence and reassurance in their level of professionalism within the industry.
Despite there being quite a lot of work involved in preparing for Chartered, Sheila and David supported each other throughout the process, including their written submissions - identifying where each other's strengths lie, as well as during the interview stage. 
Sheila says: "We know that gaining ChPP is an important step for all professional project managers and should be the goal for everyone delivering projects. It feels like we are now recognised alongside other professionals, such as engineers. We have already had a change of perception from some of our partners and clients as they see it as a real confirmation that they are working with people who are of good standing and have externally validated experience and knowledge to offer.   
"We would recommend that any project manager should aspire to Chartered status and we expect that it will become a requirement that any significant project plan should be signed off by a ChPP.  We always say that reputable companies would only submit their accounts by a Chartered Accountant and we anticipate projects to go in this direction, as Chartered becomes more widely established."
David Roberts continues: "I've been working in the industry for over 25 years, and I have been so impressed by the impact ChPP has made on colleagues, especially their desire to take up the challenge themselves in reaching this new professional level.  It is a great leap forward for the profession."
As well as their Director roles at CUPE International, David Roberts is a Fellow of the Institute of Consulting and an APMG Registered Consultant as well as being an Approved Trainer in several topics. He is also a member of the APMG ACO Standards and Ethics Committee and an elected member of the Agile Business Consortium Board.
Sheila Roberts is a ChPP Assessor and the APM Chair of Examiners for PMQ, Risk Level 2 and PPQ. She is also Treasurer of ASPECT Organisation and has been an Examiner or Quality Reviewer for several PPM topics.
For further information on Chartered (ChPP) status visit https://www.apm.org.uk/media/35526/the-chartered-project-professional-standard-march-19-web.pdf