Pole position: The impact of chartered status in the Antarctic
Even in the most isolated and extreme conditions, Chartered Project Professionals are delivering projects and programmes that are helping to change the world. We spoke with project experts who are delivering a transformative programme of work for the British Antarctic Survey (BAS) to discover the difference chartership is making.
The UK Antarctic Infrastructure Modernisation Programme (AIMP) is an ambitious undertaking aimed at enhancing BAS facilities and equipment in the Antarctic and sub-Antarctic.
The scope of work includes modernising and expanding existing BAS infrastructure such as wharves, shelters and support buildings. Future phases may also see upgrades made to runways, hangars and accommodation buildings. The work is central to the British Antarctic Survey's vision of being a world-leading centre for polar science and polar operations, addressing issues of global importance and helping society adapt to a changing world.
The planning and logistics involved in such an undertaking would be challenging anywhere in the world. But add the extreme conditions of the programme's locations – King Edward Point in South Georgia and Rothera in Antarctica – and the need to factor in carbon-reduction targets, and the high standards required soon become apparent.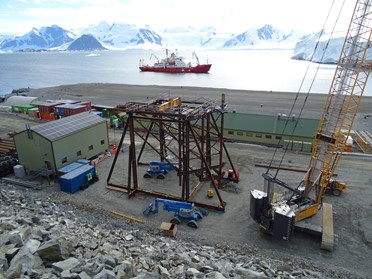 Three of the senior figures involved in the programme all have Chartered Project Professional (ChPP) status. They are: Jon Ager, programme director at BAS; David Seaton, head of construction at BAS; and Dave Grove, director at global engineering, architecture and consultancy company Ramboll.
The three say that being chartered has brought considerable benefits, including a common language that makes technical discussions quicker and easier, the ability to create plans that integrate more easily, and an ability to pivot and adapt to changing circumstances.
Chartered status proved its value during the onset of the coronavirus pandemic but has also enabled the group to progress BAS plans to decarbonise its entire estate. BAS has a target to make all its facilities at Rothera carbon neutral by 2030.
"It's a very ambitious target but we have a good team and I'm confident we can deliver," said David Seaton. "There are a lot of workstreams involved. For example, integrating renewables and introducing new technology.
"Our inspiration is to bring our carbon emissions down to the lowest level we can. There is a range of projects involved in making the entire estate fit for the future."
Dave Grove added: "Having the background and body of knowledge that comes from ChPP makes sure we can adapt our processes and apply them consistently.
"Ramboll's role is to turn requirements into a concept design. If the BAS team needs a hangar, how big is it, and what does it need to be made from? We work that up into a concept and a construction partner delivers the final design with us. Our aim is to achieve a seamless transition, without any pauses or blips. Chartered status helps us do that and apply lessons learned so we can make things better each time."


'The art of what's possible'
Working on projects at the ends of the Earth may seem as far from the rest of the world as it's possible to be. But even the BAS team was unable to escape the disruption caused by the global pandemic.
When restrictions were imposed due to COVID-19, the group had to adapt to working remotely, which impacted communication, relationship building and team morale. Travel restrictions caused by the pandemic cast doubt over whether the team would be able to travel to work on-site during the Antarctic seasonal window in 2020.
Jon attributes the group's ability to adapt, in part, to their shared ChPP status which enables the right conversations to take place at the necessary level to deliver change quickly.
He said: "We adapted really well and actually haven't missed a beat. David's delivery team and Dave's technical advisors have provided fantastic support in terms of brainstorming the art of what's possible. That has helped us keep the wheels turning and de-risked a lot of our scheduled activity. That allowed us to get into the Antarctic and to deliver safely.
"Yes, we're three Chartered Project Professionals and that's a nice title to have. But what's important is the quality of engagement that you can have as a result of that; to understand the challenges; to quantify the risks; to look at solutions and, ultimately, to build a delivery capability. A lot of rich conversation comes from our ability to speak the same professional language.
"As project professionals, I think that we can adapt to problems and challenges perhaps easier than others because that's simply what we do. Collectively, as a group, we feel more comfortable with challenges. Being chartered has gone a long way to give us the confidence to do just that."
This article is a follow-up to a feature in a recent issue of Project, the official journal of Association for Project Management. The full feature by Jon Ager contains further insight on risk management, environmental considerations and tips for managing projects in extreme conditions. APM members can read the full article here