Community mourns the loss of Sir Reginald Harland and David Firnberg
The APM community was quick to pay its respects to Sir Reginald Harland and former president David Firnberg, who both died in July.
David, born in 1930, was described by another former APM president as a wonderful, intelligent and perceptive man. Dr Martin Barnes CBE said: He was imaginative and very good in or leading a team. He was the right man at the right time for APM.
David was the director of the National Computing Centre when he became president of APM in 1978, a role he held for six years. In 1984, the year he stood down as president, he became an Honorary Fellow.
A thought leader in all he undertook, David held a number of prestigious roles throughout his career, including chief executive of the Strategic Planning Society and director of the UK Council for Computing Development.
Martin added: We early members were keen and ambitious but had no experience of the task we had set ourselves. David had achieved success and reputation in a number of other fields and, during his presidency of APM, he was a very valuable but unobtrusive help.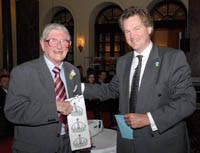 Former senior Royal Air Force commander Air Marshal Sir Reginald Harland KBE CB, joined the RAF in 1939 (pictured left with APM chief executive Andrew Bragg during a presentation to mark Sir Reginald's 92nd birthday). During his time in the force Reginald became project officer responsible for the Thunderbird the surface-to-air missile produced by the British army.
He went on to be project director at the Ministry of Technology for the Hawker Siddeley Harrier, more commonly known as the Harrier Jump Jet.
Even in retirement, Reginalds strong engineering and project management career preceded him and led to him becoming technical director at Atkins.
APM president Tom Taylor said: I had the pleasure to meet Sir Reggie several times in recent years at APM events. You could tell he was a remarkable man who had risen to the top of his profession and continued just as effectively in other fields right into his 90s.
He was intelligent and knowledgeable about many things. He had passion, enthusiasm and energy. And he was cheerful a super characteristic for a person and particularly for a project manager.
We will miss him he was a great asset to the nation, to his community and to APM through his Honorary Fellowship.
Sir Reginalds approach to project management is encapsulated perfectly in an interview with Project magazine in May 2012. He said: In project management you need to learn how to lead and influence people, gaining authority by being professional, rather than trying to use the power of your position. If you are trying just to force people to do to things you are far less likely to succeed.
Both men had a huge hand in helping shape the association and will be greatly missed by all.
Please leave your memories and tributes below.