Creating and sustaining an environment for success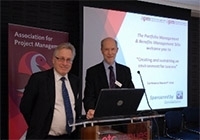 Major Projects Authority director Dr Norma Wood gave an inspirational start to a recent APM event that aimed to create and sustain an environment for success.
Dr Wood proposed that when seeking senior level support, for portfolio management and/or benefits management, it is wise to approach the task in terms of a negotiation.
This was the first jointly organised conference by the APM Portfolio Management Specific Interest Group (SIG) and APM Benefits Management SIG. It looked to highlight the many insights into how to develop the right approach and create the conditions that will provide the greatest chance of sustainable practice in these areas.
If you missed the opportunity to attend the event then you can access a selection of the speaker presentations as well as watch videos of some of the speaker sessions. The videos are available on the PM Channel area of APM's website until the end of August.
The speaker presentations were complemented by workshops, which generated over 100 ideas, and these, together with other outputs from the conference, will be reviewed and used for further development by both SIGs in support of future knowledge development/sharing activities.