Croatian academic and construction expert joins PM World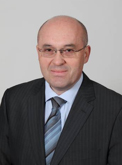 PM World has announced that Ivica Zavrski, PhD, professor of construction project management at the University of Zagreb, has joined the Editorial Advisory Board for PM World Journal (PMWJ). The PMWJ is a monthly eJournal devoted to knowledge sharing and continuous learning in program and project management.
Ivica Zavrski, Ph.D. is a professor of construction project management in the faculty of civil engineering at the University of Zagreb, Croatia. He teaches masters and doctoral level courses, as well as the MBA course in Construction. For more than ten years he has been responsible for the program of lifelong learning at his institution, dealing with project and construction project management.
Professor Zavrskis experience spans more than twenty years, including numerous research projects related to project and construction project management, within Croatia and internationally. His research areas of interest include productivity and knowledge management in projects and project-oriented companies. The results of his research has been published in more than fifty journal papers and conference proceedings worldwide. He is an active member of the Croatian Project Management Association, and the International Project Management Association (IPMA). He is a member of the project team that is organizing the 27th IPMA World Congress in Dubrovnik in October 2013.
Ivica Zavrski is a member of the editorial board of the International Journal for Organisation, Technology and Management in construction OTMC, and a reviewer for several international journals dealing with project management and construction project management. He was a member of scientific and organizing committees, and the editor or editorial board member of proceedings for more than ten international conferences related to project and construction project management. Parallel and in conjunction with his academic carrier he has been an active project manager and professional consultant in various projects, primarily in construction and infrastructure development. His recent activities are related to energy and renewable energy projects.
According to David Pells, PMWJ Managing Editor: I had the honor of meeting professor Zavrski in Crete this year, at the 26th IPMA World Congress on Project Management. After learning of his academic background and professional involvement, it was clear that he could be a great addition to the journals international editorial team. We are honored to welcome him as a global academic advisor, and to having the University of Zagreb represented as well.
I look forward to contributing to the new journal, and to spreading the information within my academic and professional environment, Dr. Zavrski said. I use this opportunity to offer my congratulations for the engagement of the very excellent team of academic colleagues, and I look forward to being part of next journal activities.
The PM World Journal is a global online publication published by PM World Inc. in the United States, but created by a virtual team of contributors and editors around the world. Each month, the PMWJ features dozens of articles, papers and news stories about projects and project management in different countries and industries. PM World is a virtual organisation reflecting the 21st century reality of a connected world where individuals and organisations worldwide can collaborate for the creation, sharing and application of new knowledge. See the latest edition of the PMWJ.