Crossrail extension to Hertfordshire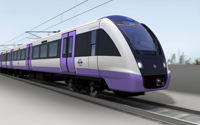 Transport Secretary Patrick McLoughlin has announced that the government is considering extending Crossrail to Hertfordshire.
The plans, which would reduce journey times between London and parts of Hertfordshire by up to 16 minutes, will also make it easier to redevelop Euston station. Euston is currently set to gain 11 new platforms under the proposals for the HS2 project between London and the West Midlands.
Journey times if Crossrail is extended
Tring to Liverpool Street 57 minutes
(a reduction of 13 minutes)
Watford Junction to Canary Wharf 43 minutes
(a reduction of 12 minutes)
Tring to Bond Street 55 minutes
(a reduction of 16 minutes)
Watford Junction to Liverpool Street 37 minutes
(a reduction of 13 minutes)
Its hoped the Crossrail extension would take pressure off the Tubes busiest sections, with the project extending through north-west London to stations such as Tring, Hemel Hempstead, Watford Junction and Berkhamsted.
Mr McLoughlin said: Were going to examine, right away, how we can run extra services direct into the city and through to Canary Wharf from these key stations, without the frustrating need to change at Euston.
Ive made it clear to my department that any changes must not affect the timetable or planned service pattern for the existing Crossrail scheme.
London Mayor Boris Johnson added: The renaissance of Euston is a fantastic opportunity for regeneration in our city and one we should not miss.
Providing a new rail route into the capital for passengers from Hertfordshire will be vital for Euston to be properly redeveloped to accommodate HS2 and to maximise the delivery of new homes and jobs in London and beyond.