Crossrail Learning Legacy – New content for 2016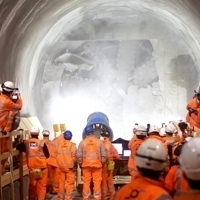 Crossrail has released their second wave of learning legacy content giving first hand insights from the people delivering Europe's largest infrastructure project. 
The Crossrail Learning Legacy aims to share knowledge and insight, through means such as case studies and webinars providing lessons and recommendations to help others. 
Documents and templates that have been used successfully on the Crossrail programme can be 'pinched with pride' by other projects. 
As a Learning Legacy partner, APM continues to work alongside Crossrail hosting a range of free to access webinars providing first hand insights from Crossrail's industry leading project managers. The next webinar will be presented by Crossrail's performance assurance manager Richard Wood discussing performance assurance.
Crossrail's Learning Legacy Highlights:
Health and Safety
A case study on the Crossrail Health and Safety Performance Index details how this process has evolved and the impact it has had on contractor performance.
A new series of 'Impact' videos accompanied by discussion points for viewers. The videos are available for third party use to help industry efforts to improve the health, safety and wellbeing of employees in the workplace
Talent and Resources
Papers covering the learnings from implementing Crossrail's Skills and Employment Strategy to provide a lasting  skills and employment legacy to London and the South east. 
A paper on establishing the purpose built Tunnelling and Underground Construction Academy which has delivered over 16,000 training starts, 
A paper about Crossrail's apprenticeship programme which has delivered over 600 apprentices, and a paper on how Crossrail inspired the next generation by engaging with over 44,000 people through the Young Crossrail Programme. 
Environment
An environmental supplier performance case study. Building on the London 2012 Olympics mechanism for ensuring Tier 1 contractors were performing to the environmental standards required, the paper describes the elements put in place and how it was tracked to assure delivery including the beneficial reuse of 7 million tonnes of excavated material. 
Other topics include noise from construction railways, CEEQUAL, and low carbon concrete.
Engineering
Papers from the second volume of Crossrail Infrastructure Design and Construction, a series of books published through ICE Publishing.  These are the results of Crossrail's annual technical papers competition which is open to all working on the project.
Procurement 
An extensive paper explaining how Crossrail built on the procurement model established by the Olympics Delivery Authority and how the practice on these two major public sector procurements has been included in the Infrastructure and Projects Authority's Procurement Routemap.
New material including good practice documents, peer-reviewed case studies and technical papers, will be published every six months for the duration of the Crossrail project.
Crossrail's Learning Legacy seeks to collate knowledge and share good practice on a wide range of topics for the benefit of future projects. 
Crossrail is working with a broad range of industry partners to disseminate the information through an ambassador programme, events and webinars that allow the people building the projects of the future to hear directly from the people who have delivered Crossrail infrastructure.