Crossrail project reaches halfway point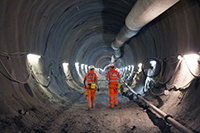 Its been five years since the Crossrail project began in London, aimed at easing pressure on the citys travel networks. So far seven 1,000-tonne tunnelling machines have bored more than 29km of tunnels under London with an eighth machine due to launch next month.

Construction is also advancing on the 10 new Crossrail stations and on works above ground west of Paddington and east of Stratford.

Terry Morgan CBE, Crossrail chairman, said: Everyone involved can be justifiably proud of this achievement. It demonstrates the growing capability of the UK to deliver major infrastructure projects.

The 14.8bn project is expected to provide direct connections from the capital to a number of stations including Maidenhead and Heathrow in the west with Shenfield and Abbey Wood in the east via central London.

The project has been huge in terms of the scale of works thats been carried out already. Ten thousand people are currently working on Crossrail, including more than 280 apprentices, with the project at peak construction.

During 2014, Crossrails major civil engineering and tunnelling works will conclude and the focus will shift towards station construction, fit-out and implementing railway systems within the tunnels and stations. The train operator will then test and refine the systems with the service expected to go live in 2018.

It is estimated that Crossrail will generate at least 75,000 business opportunities and support the equivalent of 55,000 full-time jobs around the UK.

In addition, and importantly, Crossrail will add 10 per cent capacity to Londons rail network.

The project is part of the Transport for Londons (TfL) investment programme. The TfL is investing millions of pounds into the modernisation of the citys various transport networks including the underground, bus and cycle routes.
Related stories: