David Cameron backs 'HS3' rail link for north of England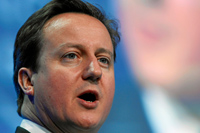 Prime Minister David Cameron has given the go-ahead to plans for a high-speed "HS3" rail link in the north of England, according to the BBC.
His backing followed a report by Sir David Higgins where the HS2 boss said better rail links in northern England were "desirable" and "possible" after being asked to look at ways of maximising the benefits of HS2.
The government said it would now develop a strategy looking at options, costs and a delivery timetable for HS3 with a report being produced in March.
David Cameron welcomed the report and said improving connectivity and reducing journey times was "crucial" to the government's long-term economic plan for the north of England.
"These sort of decisions, decisions about our country and the future of rail, matter. They are not always popular. HS2 is not always popular. But I profoundly believe they are right," he said.
He said that it was a "big flaw" of the original HS2 plans to miss east-west connections with possible journey times from Manchester to Leeds being cut from 48 to 26 minutes.
The east-west improvements backed by Sir David would be in addition to the north-of-Birmingham phase two of HS2, which will see a Y-shaped route going from Birmingham to Manchester and Leeds.
Sir David did not make specific proposals on how to achieve faster times, but said a mixture of current and new projects would make them possible.
He said improvements to rail services between Leeds and Manchester could involve a doubling of trains per hour, with either a new high-speed track and tunnel under the Pennines, or an upgrade to the existing line.
Stop HS2 campaign manager Joe Rukin said HS3 would be even more expensive per mile than HS2.
But Sir David said he could not see how HS3 could cost more than HS2. "It will be a combination of upgrading existing lines, also some new tunnel," he said.
"There's no reason why it would be more expensive."
George Osborne said in June that a high-speed rail link between Manchester and Leeds could help to create a "northern global powerhouse" and asked Sir David to consider how to improve east-west connectivity.
Sir David went on to say that the plans were "as important to the north of England as Crossrail is for London".
Construction on the 50bn HS2 project is due to start in 2017. Phase one involves a new high-speed line from Euston in London to Birmingham, with an expected completion date of 2026.
Phase two was originally scheduled to be completed in 2032/33, although Sir David is keen for this date to be brought forward.
Objectors to HS2 have said the scheme will cause an unacceptable level of environmental damage, loss of homes and disruption to many communities.
But in January the Supreme Court rejected a legal bid to force further scrutiny of the first stage of the government's plans.
Image: By World Economic Forum/Moritz Hager (Flickr) [CC-BY-SA-2.0], via Wikimedia Commons