Diversity delivered at APM's WiPM Conference
Diversity delivered at APM's WiPM Conference
 Buzzing with energy and ideas, the 2019 Association for Project Management (APM) Women in Project Management Conference, sponsored by Rider Levett Bucknall, was an unmitigated success, selling all 600 places. It delivered a programme that celebrated diversity in project management, offered ideas for building resilience, and techniques for delivering better results on projects of all kinds.
APM President's Address
The importance of making her maiden speech at WiPM as the APM's first female president was not lost on Sue Kershaw. "We are at a crossroads in profession, the opportunities ahead are massive, and I will ensure we will make the best of it for you," she said to much applause. Here is a summary of her main points:
APM has had a great year of progress. Membership went up 16% up to 30,000 in the UK. "We are at the institutional top table", said Kershaw. The Body of Knowledge 7 was launched, APM issued 43,000 digital badges, and student membership is up a staggering 79% to 6,000. There have been 774 APM ChPPs announced since October 2018, covering 50 sectors, with the oldest at 70 and the youngest at 29.
Sue focused on how to make project management a first choice career. "We are now mainstream. However one big challenge is that not enough women are applying for Chartership - only 15%. "Let's change that and let's change that today. Go for it. You owe it to yourselves and to your profession."
"Project management is overdue for recognition and is must be celebrated as a profession. It's up to you to raise our profile and our value."
Sue's presidential themes for the next two years include raising the level of professionalism. "We need to demonstrate the value of delivery and give assurance to clients projects will be delivered on time and on budget with the right outcomes." Another theme is to give clients progressive assurance, which is the reverse of audit.
The power of resilience
Keynote speaker, Claire Lomas MBE, British campaigner and spinal injury charity fundraiser, suffered a spine injury while on her horse at an event, which left her paralysed from the chest down at the age of 27 in 2007. She spoke of her determination to continue with her life and talked through the phenomenal number of punishing physical challenges she has put herself through, including walking the London Marathon in 2012 in an exosuit to raise more than half a million pounds for charities including the Nicholls Spinal Injury Foundation.
"How did I get through it? I did the little things like going out for lunch with friends. It's like a jigsaw puzzle - you put the small things in place to get something significant" said Claire.
The mindset revolution
Elsewhere at the event, Marcus Thomlinson of The Mindset Revolution asked delegates what stories are you telling yourself? He then outlined the 10 habits of leadership. These include:
Having the right attitude - people who are successful have a can-do attitude.
They REALLY have a plan - have a plan and make sure you are checking your performance.
They set the right goals - be specific, pick something that really inspires you.
Vision - create a vision in your mind. It will help you to have the right mindset.
Be proactive.
Do the thing that needs doing first.
Be consistent - build a process so it keeps you doing the things you need to do, when you need to do them.
Communicate well.
Take time to relax.
Associate with the right people - read the right books and push yourself out of your comfort zone
He set a challenge for seven days called "I'm fantastic". Delegates were tasked with using this response when asked how we are and see the impact this has. Marcus emphasised that we can influence our own mindset and others with positivity. Taking action is important, even if imperfect, to avoid procrastination.
Workplace wellbeing
Dr Clara Cheung of the University of Manchester, author of new APM sponsored report The Wellbeing of Project Professionals talked delegates through the research, which was launched at the conference. the research called for action to better support the wellbeing of project professionals. Read the full report on the APM website.
Managing change – insights from neuroscience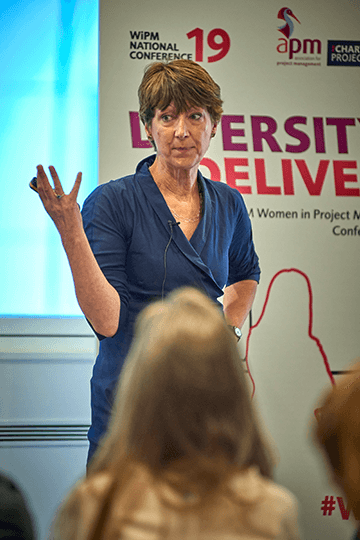 Hilary Scarlett of Scarlett & Grey explained how neuroscience can be applied to improve wellbeing and the success of organisational change. By understanding our brains better, Hilary explained how we can have more choice in our response. Our brains have a far stronger response to things that they perceive as a threat than they do as a reward.
Hilary showed how words and presentations activate the analytical part of our brain whereas stories activate our motor cortex, stories give a choice on how we respond - and emotions are remembered more than words. The importance of understanding that every brain filters differently and our reality may not be the same as others.
We are not designed to have constantly high levels of cortisol and adrenaline, and our brains like habits, and uncertainty and organisational change are hard for the brain. But thanks to neuroplasticity, we can keep learning.
Transformation in the context of diversity
Dee Tamlin of Pinsent Masons explained to delegates that diversity helps organisations find better solutions and creates innovation. Dee emphasised that people need to be able to bring their whole self to work to be able to contribute fully. She shared her own experience of coming out at work and how this supported others to feel more comfortable to be themselves.
Dee explained to speed up any change process we should communicate, enrolling all stakeholders by  actively engaging and involving them, enabling them to explore and commit to change.
Matthew Moran, Open University and Jess Annison OBE of JCURV talked about diversity in agile teams. Statistically, diverse teams perform better. McKinsey (2018) showed that companies in the top quartile for gender diversity were 21% more likely to outperform on profitability.
Research on diversity usually identifies two distinct kinds - identity diversity (dimensions include name, gender, religion, sexuality, skin colour, etc) and cognitive diversity (people who have different thinking tools, ways of seeing the world, analysing problems, generating ideas, etc). Jess and Matthew emphasised how more diverse teams (including both kinds of diversity) with a broader mental toolkit are better prepared for success in a complex world.
Jess and Matthew then outlined some tools on how to approach that include the five superpowers of diverse teams.
Visualise your work and what you are trying to achieve in a low-tech, tangible way like sticking notes on a wall.
Run regular 'retrospectives' about the way you work on a project. Ask "what went well?", and "next time, it would be even better if…" It will put you on path of continuous improvement.
Creativity is key - the agile community talk about T-shaped people who have breadth in a number of areas and have depth in one or two areas.
Build a team with different T's because the greatest creativity is in between the gaps of the Ts.
Engagement - some features of a diverse team can cause friction because they don't understand each other. Focus on how to maintain your own engagement as well as that of your team.
Personality and project delivery
Paul Erricker of The Project Academy's talk was centered on adaptive and innovative personalities. These personalities vary to different degrees along a spectrum – both are very useful to project management, especially at different stages of the project.
Innovators tend to be very impulsive extroverts. Adaptors are more introverted and detailed. An innovative individual may appear sloppy and impatient to an adaptor, while an adaptor may appear too rigid and change averse.
The important thing is to find the balance and allocate tasks/presenting ideas to people based on an understanding of their personality types. Paul suggested giving an innovator a brief summary of an idea whereas an adapter will appreciate a higher level of detail.
Closing key note speaker

Cally Beaton, media executive, entrepreneur and performer closed the conference with a light hearted but thought provoking speech. Cally ran a TV production company, but "we became the victims of own success and got acquired by ITV… I was the youngest and only female member of the board." On that board was former Prime Minister David Cameron – he was typical of the people on the board: white, male and stale, according to Beaton. "It didn't occur to me to turn up the volume on who I was – I just aped them."
She explained that it's important for us as individuals to be true to ourselves in the workplace. Diversity is so important in our lives, she said. "Real equality isn't possible if we don't celebrate our differences".
Here are five key takeaways from this year's event:
Diversity comes in many forms – it's how we think, as well as how we look
We all have it in us to be resilient – when the situation seems impossible, know that you can bounce back
Stress isn't necessarily a bad thing – channeled in the right way, it can prepare us to do our best
We should all embrace who we are in the workplace – it's important to make your voice heard
Visualise your goals, and focus on achieving them – you'll be surprised how much you can accomplish
Find out more about APM's next conference series, the 2020 Power of Projects Conferences on the APM website.