New research finds more must be done to support project managers' wellbeing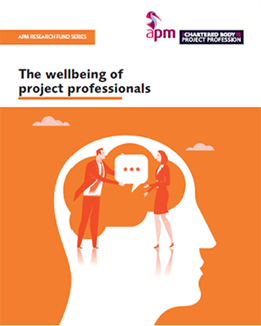 New research sponsored by Association for Project Management (APM), the chartered body for the project profession, is calling for action to better support the wellbeing of project professionals.
Research, conducted by Dr Clara Cheung, Lecturer in Project Management at the University of Manchester, benchmarked 183 APM members against a general working population (GWP) group that involved approximately 70,000 people from organisations in the private and public sectors. Its findings on the wellbeing of project managers include:
Project professionals are more concerned about not enjoying their jobs than the GWP group. Contributing factors include dealing with difficult customers, poor physical working conditions and risk of physical violence.
Productivity among project professionals is lower than the GWP group. This is partly caused by lack of adequate training, insufficient feedback on performance, insufficient information about what is going on in the organisation, and lack of equipment/resources to do the job.
Project professionals are worse off than the GWP group when it comes to work-life balance. Contributing factors include excessive travel time, long hours and work interfering with people's personal lives.
The findings have been published in the report The Wellbeing of Project Professionals, which recommends that organisations cultivate a more positive culture with constructive performance management and feedback. Recommendations for individual interventions include active management of stress – through time, stress and energy management – and the adoption of a strengths-based approach to work assignments (whereby the nature of the project aligns to an individual's strengths).
Debbie Dore, chief executive at APM, said: "Project-based work has long been characterised as frenetic, fast-paced and dynamic. Its professionals typically encounter high expectations and severe pressure to deliver projects on time and within budget, and to reconcile changing expectations of scope due to dynamic factors. With mental health awareness increasing, it is important that we, as a professional body, take a closer look at what steps can be taken to make improvements in this area."
"Employers, the profession and government all have their roles to play in developing solutions – both at the policy and practice levels, along the lines set out in this report.
"Once organisations know what the problems are, they can start to evaluate how best to respond."