Download Raconteur's The Agile Business report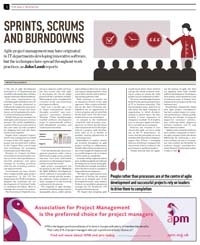 If aren't able to get your hands on Raconteur's report The Agile Business published in The Times today, don't worry. You can read it online or download a PDF version.
Reaching 1.3 million readers the report collates key discussions around agility, providing in depth analysis on integrating agility into the business strategy.
Agility, or the capacity of a company to be responsive, collaborative and innovative in the face of change, has been identified as one of the key attributes a post-recession business must possess in order to optimise its resources and drive success.
APM branding features alongside a section of the report dedicated to project management and agility.
The feature explores how project managers in an agile business should feel empowered and enabled to develop a more agile approach. They should understand how to blend traditional and agile methodologies and principles to suit their individual team and workflow.
An interview with a project manager, who encountered various advantages and challenges applying a successful agile project management strategy to their team, dispels the idea that this methodology is only applicable to software and systems development and is in fact relevant to managing any form of business change.
This follows on from APM featuring in three other special reports that were published in the press. London business newspaper City A.M. published their first report on project management last month explaining how APM has created a new pathway into the profession. Raconteur published a report in The Times in July where APM chairman Mike Nichols explained the idea behind the association's ambitious vision. Before that, APM supported the Daily Telegraph's special project management edition of The Business Reporter that came out in April.
As originally seen in 'The Agile Business' published by Raconteur Media on Tuesday 26th November 2013 in The Times.