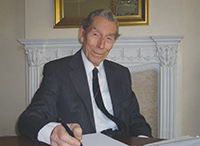 Heartfelt tributes have been paid to Dr Jim Gordon, a founding father of APM and influential standard setter who passed away peacefully on 14 August, 2014 at the age of 87.
Jim was one of the pioneering seven whose meeting at an INTERNET (later IPMA) expert seminar in Zurich in 1971 inspired them to start a UK branch, which held its first meeting in London in May 1972.
I collected details of all new members on cards but after 110 cards, my box was full so Jim took over and computerised the system, recalls fellow founder member and Honorary Fellow Dennis Gower.
For many years he was a stalwart member of the Executive Committee and, when it was renamed, of Council. He was always prepared to put forward his ideas for development and to work hard on their implementation. His contributions will be sorely missed.
Jim served as honorary secretary for some time and his input was invaluable as the fledgling organisation run by the members grew into the Association for Project Management. He was awarded Honorary Fellowship of APM in 1992 in recognition of his outstanding service.
"He was a lively, energetic man and a tower of strength throughout the formative years, said former chairman and Honorary Fellow, Eric Gabriel. Knowledgeable and helpful in all project management matters, he was enthusiastic in all his activities.

Throughout my time as chairman of APM and President of IPMA, I was grateful for his support and advice, particularly in times of transition and decision making. He will be sorely missed as a great character and source of information to all.
I will always remember him and be grateful to have known him as a respected colleague and friend in the course of our rapid march to the effective and vital profession of project management."
Jim worked in the aerospace industry, moving from engineering to project management. While taking a Masters course at University of Birmingham, he was asked to join the staff and remained as a lecturer and director.
In 1974 he was awarded a PhD for his work on resource allocation techniques for project scheduling. He was also a visiting professor at NC State University in North Carolina, USA, and served as an examiner at Cranfield University and the Management and Business School of the University of Wales.
As well as his work with APM, he made a major contribution to the official national and international standards for project management. He was a founder member and long-serving chairman of the British Standards Institute (BSI) technical committee now MS/2. As a key member and later chairman of the ISO technical committee he was also the driving force behind the first international project management standard.
Under his chairmanship of MS/2, the first national standard on project management, BS 6079, was produced, quickly followed by a glossary and a standard on risk in projects, said Miles Shepherd, former APM chairman, Honorary Fellow and the current chairman of ISO TC 258. He lived to see the international standard on project management issued as ISO 21500.
Jim was a very good friend to me in my various capacities especially in relation to standards. He introduced me to MS/2 and to ISO and helped me through the difficult early stages. The committee was saddened to hear of the loss of a highly respected chairman.
Jims influence also extended to APM branch activities, especially to Midlands Branch of which he was a founder member.
He brought a gentle and quietly considered view to meetings, with huge commitment to the growth and benefit of the project management profession, said John Gordon, deputy chairman of APM and branch member.
While professionally serious, Jim was a warm and friendly man who always had time to listen and offer advice and support and who passionately believed in the value of APM to do good in our society.
APM owes a great debt to Jim and extends deepest sympathies to his wife, Antoinette.
Please feel free to leave your own memories and tributes below.