Eddie Obeng - take on the world with hard and soft skills [Video]
It is down to project managers to take advantage of the amazing opportunities on offer.
However, in order to make things happen project managers need to discover new ways of working and have a balance between hard and soft skills.
This was the key message that came out of an energetic and motivational presentation from business educator Professor Eddie Obeng.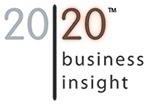 Speaking at the APM Project Management Conference sponsored by 20|20 Business Insight this month Eddie believes that project managers "now have a responsibility to take on the world."
He said: "Project management is at the start of an amazing transformation. It's now over to us, not just to make things happen, but to make sure the right things happen." He believes this can be done through experimenting and discovering new ways of working together.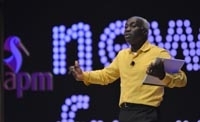 Eddie urges project managers to move away from having to follow a fixed structure in terms of the way they work: "At the moment most project managers spend most of their time on the hard stuff; the numbers, the structure, the planning, and less on the soft stuff. They then moan about it because their stakeholders are not happy. I'd like them to re-balance that a little bit.
"We really need to become quite holistic," he added.
Eddie was part of an "influential and inspiring" speaker programme, all of whom spoke to APM about their key messages.
A selection of presentations was also filmed in full by APM's media partner The PM Channel, including Eddie's popular session.
For a limited time only APM website visitors have exclusive access to video presentations from some of the conference's thought-provoking speakers including the award-winning BBC programme director; Andy Griffee, and ex-political campaigner and communication strategist; Alan Barnard.
The video presentations are available for two months until the end of June. This offers those, who either couldn't make it on the day or were there but spoilt for choice between which speaker to see, the perfect opportunity to hear some of the profession's most influential figures tackle the conference theme of New Frontiers.
#apmconf