Empower your journey to success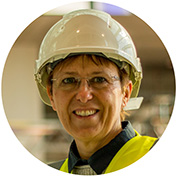 Have you ever wondered how to get the best out of yourself? Whether you are starting out on the first rung of your career or you've chalked up a few years and want to know how to make the next big step, chances are this is something that you have considered.
At APM's National Conference for Women in Project Management (WiPM) 2018, sponsored by BAE Systems we have enlisted the advice of APM Honorary Fellow, Arup Director and Global Leader of Programme and Project Management Julie Wood to share nuggets of wisdom and tangible takeaways from her 25 years in the construction industry.
Born in the North East of England and starting her career as an engineering technician she was the first person in her family to go on to higher education. Graduating with a First-Class Honours degree. Julie now holds the position of director and global leader for programme and project management at Arup and is a key leader for the Arup Team for The HS2 Euston Station Project.
Julie operates at board level and has built a reputation for finding innovative solutions to complex projects and spotting the key issues and risks on projects both in the short and long term.  Her diverse and eclectic portfolio includes leading the structural design on the award-winning McLaren Headquarters; a project she earmarks as her greatest achievement.
Outside of Arup she has experience of Non- Executive Directorships, is a member of The Court at University of Greenwich and has worked closely with senior politicians and policy advisors regarding better links with business.
Julie's presentation at this year's WiPM conference is aimed to give all delegates key takeaways that can be instantly implemented in their own work environment and help them to think positively about self-development and career progression.
Drawing on lessons learnt and experience across her career Julie will discuss how she changed the way she worked, communicated and created & embraced opportunities to become the resilient leader she is today.
Book your place for the APM WiPM Conference now.