WIPM 2018: Prepare to be empowered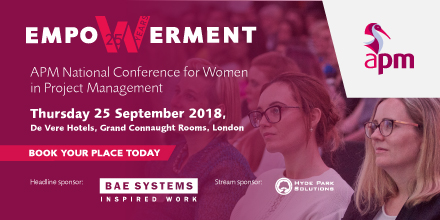 Noun: empowerment; the process of becoming stronger and more confident, especially in controlling one's life and claiming one's rights.
The start of 2018 has sent a powerful message across the globe that in today's society things are changing; fast. Tolerance of inequality and repression is diminishing and today's generation is set to drive further change across industry and society.
Today we launch the 2018 APM National Conference for Women in Project Management, sponsored by BAE Systems, with this year's conference celebrating 25 years of the APM Women in Project Management Specific Interest Group (SIG).
The conference, taking place at the De Vere Hotels Grand Connaught Rooms, London on Tuesday 25 September explores the theme 'Empowerment', aiming to give women who work in all areas of Project Management the tools to develop a highly rewarding career, create a powerful profile and empower their teams as respected leaders.
While progress in women's equality is rife, there are hurdles yet to tackle. As of 2017 there were still more men named John leading FTSE 100 boards than women. However, with the mainstream media and political elite driving change opportunities that once sat on the horizon are now in our hands.  
As well as a changing culture, a toolbox of new technologies enabling flexible working and career pathways in new sectors has given women the skills and tools to become high-performing project managers and become leaders in their field.
As the playing field levels across our nation: now is the time to empower ourselves and our teams to lead and deliver the projects of tomorrow. The APM National Conference for Women in Project Management 2018 will give women across all industries the chance to find out how. 
Commenting on the conference Head of Equality, Diversity & Inclusion at VolkerWessels UK and conference chair Hollie Woodard said:
"For many, the Women in Project Management Conference 2018 provides a key opportunity to come together and discuss the prevalent topics of today whilst networking with their peers.  This year's conference highlights just how far we have come in the last 25 years as we look towards empowering ourselves as demand from industry and a levelling playing field opens up new opportunities"
Join Hollie and other representatives from leading organisations and inspirational speakers from our profession to see what empowerment can do for you and your projects.