Enabling Change SIG newsletter, February 2017
Enabling Change SIG Newsletter, February 2017
Welcome to our 450+ members and our latest news in summary
Our membership has reached 454 at the time of writing – meaning that we are now only 46 members short of our 500 target by the summer of this year!

Feedback from those of you who have attended our recent events also indicates that we are continuing to fulfil our mission to "improve the change capability of APM's corporate organisations, teams and individuals".

We look forward to providing you with further events during 2017, including our major one-day conference in London on the 23rd March, and a showcase of our pioneering Transport Practitioner Group for which a date is being planned as we write.

The new Utilities Change Practitioner Group had its first meeting on 31st January and the relaunched Financial Services Change Practitioner Group is arranging its first meeting. We are currently collating results from the Public Services group, and from our recent survey on change capabilities.

The draft of our first hard-copy publication has been circulated and reviewed by a wide cross-section of change practitioners and we are working on the next iteration.

We also welcome some new committee members, and continue to invite further expressions of interest.

See below for more information on all of these topics.
---
Progressing our mission to build your change capability
The number of SIG members has jumped in recent months so we are increasingly confident about meeting our target of 500 by June of this year!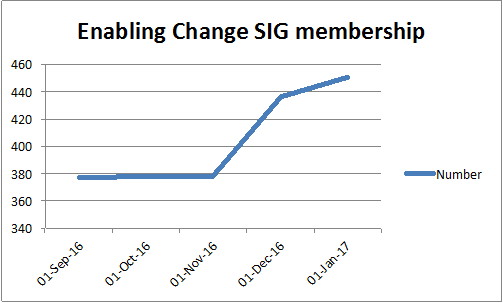 As mentioned in our last newsletter, we are keen to obtain on-going feedback from our members to help us understand your requirements and how well we are doing in terms of our mission. 

This is the feedback we have been getting from our four events in Sept-Dec 2016: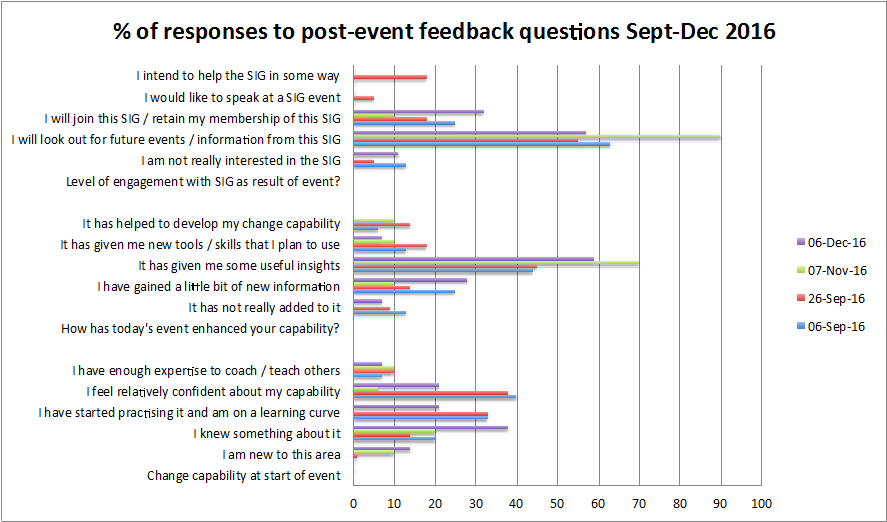 The values are logs of the totals – where 1 equates to 100%.

Our conclusions from this feedback are that delegates attending our events tend to already have some experience of managing change but still gain useful insights from the events.  They have been encouraged to join our SIG (as we've seen by the increase in numbers) and they will be looking out for future events.

However, we recognise that this feedback has only come from a fraction of our members, so do please contact either Martin Taylor or Elisabeth Goodman to provide any further feedback.

Events planned for the coming year – and notes on those from 2016
Our major event in 2017 is our one-day conference on 23rd March, in London: "Changing Focus… is an overarching approach to change the way forward?"  Four of our five speakers are already confirmed.  These are:
Joanne Bradshaw (our keynote speaker) Fraud, Error & Debt Programme Director & Head of the DWP Project Delivery Profession, Department for Work and Pensions.
Sabine Jaccaud, Director, Cambridge Communications, AstraZeneca.
Rebecca Bryant, Chief Fire Officer of Staffordshire Fire and Rescue Service.
Martin Taylor, Chair of the APM Enabling Change SIG and Lead Consultant at WeDeliverChange.
We asked Joanne Bradshaw to come back again as she received a very positive response when she addressed our one-day event for the South Wales West of England branch in Bristol last September on how to successfully deliver business change.

Event notes on those from 2016
Sabine Jaccaud has been a key shaper of the communications for AstraZeneca's transformational relocation to Cambridge that we heard about in November.

Rebecca Bryant's Fire Service received a glowing report in 2016, which praised the service's "very positive and unique culture" which "drives improvement and change across the organisation and ensures that everyone is engaged."

Our December 2016 Webinar with Melanie Franklin on the Change Management Institute's competency framework was very well attended, and we look forward to running further webinars in 2017/18.

Also coming up in the near future is a repeat of the AstraZeneca event, this time in their place of origin in conjunction with the North West branch, on 27th April. 

We are also submitting a proposal for a showcase event of the learnings from our pioneering Transport Practitioner group.

Contact Elisabeth Goodman if you would like us to present at one of your events, or if you would like to speak at or otherwise support one of our events.

Update on our Change Practitioner Groups
We featured the Transport Practitioner Group in our November 2016 newsletter and, other than the event mentioned above, their main focus at the moment is on progressing their actions resulting from their presentation to APM HQ.

The Public Services Practitioner Group has been compiling a report on the research that they conducted in the summer of 2016, and are waiting for a publication date from APM.

The new Utilities Practitioner Group has received lots of interest and their first meeting is being held in London on 31st January. This group is being led by Lorraine Lane of EDF Energy.

The Financial Services Practitioner Group is being relaunched by Kevin Minton of Nationwide, who is currently organising the first meeting, to be held in Swindon.

Update on Introduction to Managing Change publication
The response to our first draft by members of the various SIGs and change practitioners that we have circulated it to has been very positive.  We have received a large number of suggestions on how we could enhance it further, and are currently working our way through these.  We still aim to publish the final version of the guide in the next few months – and will keep you posted.

Welcome to our new committee members – and invitation for more
Lorraine Lane, Utilities Change Practitioner Group lead.
Kevin Minton, Financial Services Change Practitioner Group lead.
Donna Unitt, Change Methods & Standards theme.

Please contact Martin Taylor if you are interested in joining or supporting the committee.

Research and innovation
Research / surveys:
In our previous newsletter, we announced the launch of the new SIG Change Pulse survey focusing on change methodologies, success factors and measures. The survey was open for three months and closed at the end of January with over 80 responses which are now being analysed.

We would now like to invite organisations interested in being contacted by the SIG for further research interviews and case study formulation. If you would like to participate or have any questions about the Change Pulse survey then please contact Parag Gogate

Development of diagnostic tool – output from 2016 research: 
We described this work in our November 2016 newsletter. The research team is now in the final stages of publishing the report and the diagnostic tool so do keep an eye on further communication.  For further details please contact Parag Gogate 

Resources available to you from the SIG
The Enabling Change SIG is method neutral.  We bring our members as much information as possible about what is available to them, so that they can choose which will best support them, and fit with the culture of their organisation.

The resources on our website are one way in which we do this.  Our forthcoming "Introduction to Managing Change" publication will be another.  Our events and the speakers that we invite to them is a third way in which we bring those resources to our members.


Please contact either Martin Taylor SIG Chair, or Elisabeth Goodman SIG Membership, Communication and Events SIG committee member lead for more information about our SIG or for ways to support our work.