Enabling Change SIG Newsletter, May 2017
Enabling Change SIG Newsletter, May 2017

Welcome from our Chair and our latest news in summary

The three months since our last newsletter have been a bit of a rollercoaster for our committee!
We were very disappointed not to be able to run our one-day conference in London on 23 March as we just did not have enough delegates to make it viable.  This was especially disappointing as we had such a fantastic line up of speakers.  However, they are still enthusiastic about sharing their change stories with us, so we are looking for other opportunities for them to do so.

On the positive side, we have completed our first publication: "Introduction to Managing Change" which is planned for release early August.

Our membership continues to grow, so that we have reached and just passed our target of 500 members by June!

We have enhanced our online resources to increase the number of change related methods and standards that we have documented to 21.

Our practitioner groups are going from strength to strength.

We have participated in, and are planning to contribute to more events in 2017.

And… we are inviting new members to join our committee in the run up to our AGM that will be held, online (a new format for us), on the 15 June. Please get in touch with any committee member before submitting your nomination.

Topics covered in this newsletter:
1. Introduction to Managing Change – the first publication from our SIG
2. Online resources available to our members
3. Update on the Enabling Change Practitioner Groups
4. Research Update
5. Recent and upcoming events
6. Committee changes and invitation to new members on 15 June AGM
---
1. Introduction to Managing Change – the first publication from our SIG
We are very much looking forward to sharing our new and first publication with you.  It is the culmination of a lot of hard work by our 2016-17 committee members.  We were supported in this by some very thoughtful input from delegates at various events in the run-up to us drafting the document, and in-depth review by colleagues in other SIGs, at work and elsewhere.  The document is now with APM HQ and is planned for release in August 2017.
---
2. Online resources available to our members
Did you know that we have a section on our SIG microsite dedicated to resources related to enabling and managing change?  You'll see a section on our homepage called Enabling Change resource pages which will take you to a list of the resources available. 
We've recently updated the "Change Methodologies" document which is a summary of the various change management methodologies in use across our industry.  This document provides explanations, origins, uses and the unique elements of each methodology.  So if you want to know more about Senge's learning organisations, or PROSCI's ADKAR model, or understand the difference between Pritchett's change management model and PMI's change management methodology and more, then check it out.
---
3. Update on our Change Practitioner Groups
Wider knowledge sharing is the key focus of the Transport Change Practitioner Group's next phase of work, with an event 'Changing transport' taking place on 21 June near Heathrow Airport in conjunction with Thames Valley branch.  This will showcase the group's work to date and give attendees the opportunity to explore some of the key issues with delivering large-scale change programmes in a high volume 24/7 operational environment, using a real case study from British Airways.  Delegates will have the opportunity to discuss some of the key issues involved and feed back into the wider debate.  It is hoped this will lead to further topics of interest for future work, and provide an opportunity to widen participation.

The Enabling Change SIG is also continuing to progress the actions arising from the Transport Group's meeting with APM senior management last Autumn, the group report of which has just been published.
This has provided a good basis for the SIG to provide feedback on the APM Body of Knowledge and Competency Framework.  Transport Group practitioners have also provided very useful input and feedback to the SIG's forthcoming "Introduction to Managing Change."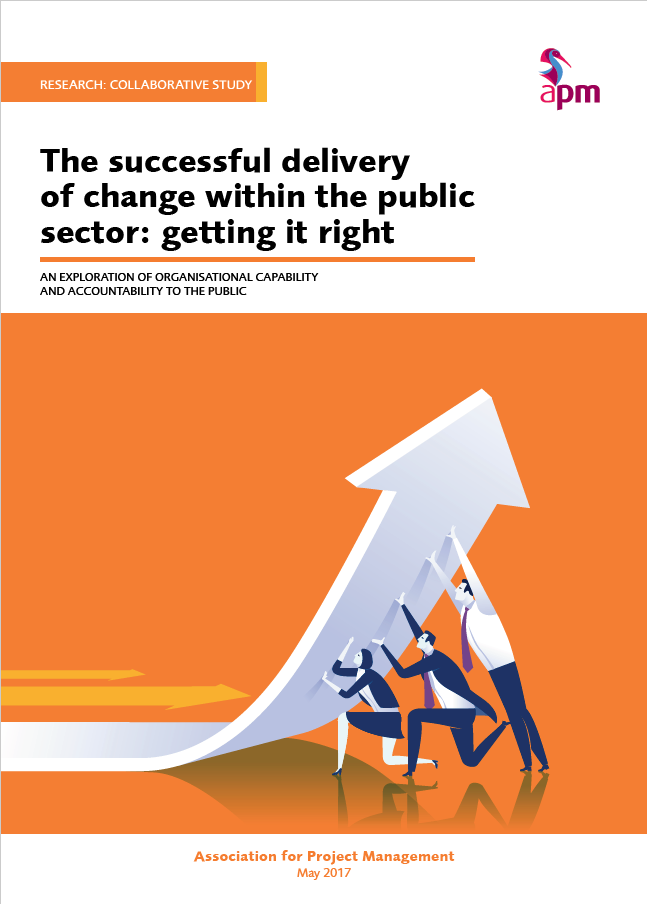 The Public Services Change Practitioner Group, whose terms of reference were established in April 2015, aims to develop and sustain individual practitioner, team and organisational change capability by facilitating access to and exploration of change methods, standards, case studies and good practice.

The Group aims to improve the general understanding of change management and a report was commissioned by the Group last year to promote further dialogue and enhance knowledge in the Public sector space. Titled "The successful delivery of change within the public sector: Getting it right", the report published May 2017 examines organisational capability and accountability to the public and identifies four dimensions of capability and two of accountability that create drivers for successful change within public sector organisations. Having examined these factors through targeted interviews with a number of change leaders and programme managers, the report provides further food for thought through a case study based on the exemplary change model provided by the Staffordshire Fire and Rescue Service. It is hoped that the report will generate debate about getting change right in the public sector and has now been published by APM.

The newly formed Utilities Change Practitioner Group has held two meetings, formulated its Terms of Reference and identified specific focus areas for further review.

The recently reformed Financial Services Change Practitioner Group has held its first meeting, agreed Terms of Reference and is identifying specific change focus areas.
---
4. Research Update
We announced a new 'Change Pulse' survey in November 2016 focusing on change methodologies, success factors and measures. We are grateful and would like to thank respondents for their input and feedback. The key objectives of this survey were:
To understand the primary and secondary drivers for planned and managed change.
To identify the various change model and methodologies used to manage change.
To understand the perception of participants around the factors for successful change that the Enabling Change SIG has been working on. 
Establish how success of change initiatives is measured and the range of criteria used.
The survey findings report is undergoing a final review. The headline findings from the survey are:
92% of the respondents experienced change in the last three years; 88% are anticipating change in the next 12 months.
The primary drivers for past as well as forthcoming change initiatives were efficiency savings and better use of resources.
45% of the respondents used a recognised formal change methodology; 48% planning to do so in the future.
62% of the respondents agreed a change success criteria with a range of measures.
'Formulating a clear vision and strategy supported by well-defined benefits' was rated as the most important change success factor.
The above survey has informed our introductory publication on managing change and we will be looking to use summaries from the survey findings to provide input into next year's activities as well as working with participants to formulate case studies for future publication.
---
5. Recent and upcoming events
Committee member, Simon Williams, represented the Enabling Change SIG at a recent East of England event.  His slides, and the write-up for the event, are available on our website
Other upcoming events to book and/or mark in your calendars include:
Changing transport

, an interactive event using British Airways as a case study of large scale change programmes and will showcase the work of our Transportation Change Practitioner Group where committee member Simon Williams will be representing the Enabling Change SIG

APM Presents

, on 7 July, where committee member Donna Unitt will be representing the Enabling Change SIG

Contact Elisabeth Goodman if you would like us to present at one of your events, or if you would like to speak at or otherwise support one of our events.
---
6. Committee member changes and invitation for more at 15 June AGM

Kevin Minton has unfortunately had to stand down as Financial Services Change Practitioner Group lead, so we are looking for a new committee member for this role.
Elisabeth Goodman will be standing down from the committee at the AGM, after three years as a founding member.  So we will have a vacancy for Membership, Communications and Events.
You can find more information on the process of nomination for joining the committee on the 15 June, by following this link on how to express interest in joining the committee.
Please contact Martin Taylor if you are interested in joining or supporting the committee.