Enabling Change SIG newsletter November 2016
We are now starting our third year as a Specific Interest Group on enabling change, with a mission to "improve the change capability of APM's corporate organisations, teams and individuals".
Readers who have been members of the SIG for a while will know that we spent our first two years developing a comprehensive set of reference documents that are available on our website here.  We also built links with internal APM SIGs and branches, and with external groups to broaden the discussion on change capabilities, and we established some sector specific Practitioner groups.
In our 2016-17 committee year we have begun and are continuing a number of initiatives to help us deliver on our mission.  These include:
Developing a hard-copy publication that will serve as a comprehensive introduction to managing change.  We have been collecting some invaluable input on this through events and conversations with members (see reports on recent and planned events below).  The first draft is nearly ready for wider review, and we plan to publish the document by the end of our committee year.  More information on this in our next newsletter.
Progressing our practitioner groups.  These are a unique opportunity to bring senior change practitioners, academic experts and published authors together in sector specific communities.  Our Transport and Public Sector Practitioner Groups have been particularly active and you can read more about them below.  We plan to initiate the Financial Services, Utilities and Not for Profit Organisation groups in this committee year and would welcome expressions of interest from our readers.
Research and Innovation.  The SIG obtained an APM grant in its last financial year to develop a diagnostic tool, and presented the results at its AGM in June. Our second piece of research focuses on change methodologies, success factors and measures.  We are launching a 'Change Pulse' survey for this.  You can read more about both pieces of research below.
On-going membership development.  SIG membership is nearing 400 following slow growth in 2015. We are setting a target to increase our SIG membership to 500.  We are keen to obtain on-going feedback from our members to help us understand your requirements and how well we are doing in terms of our mission.  To this end, we are also including SIG specific questions in the survey sent out after each event.  We will include an update on this feedback in our next newsletter, but would welcome any ad hoc feedback from members in the meantime.  Please contact either Martin Taylor (martin@wedeliverchange.com) or Elisabeth Goodman (elisabeth@riverrheecom) to provide any such feedback.
N.B. We also welcome approaches from APM members who would like to join our committee.  Full committee members are expected to take full responsibility for one of our themes or official committee roles, and to attend our monthly meetings.  We also have a number of support roles for our themes that can be fulfilled more remotely.  A pictorial representation of our themes is shown below.  Please contact Martin Taylor, Chair of the Enabling Change SIG, for an initial discussion:enablingchangesig@apm.org.uk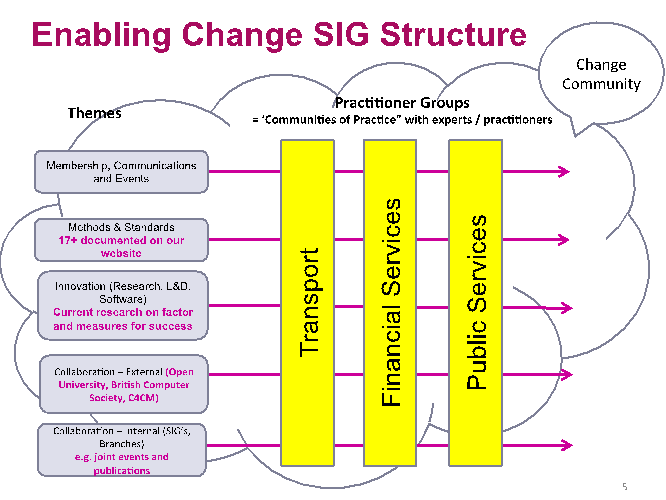 ---
Events are one of our main vehicles for interacting with our existing and potential new SIG members.  As many change practitioners are also members of the various branches, and of other SIGs, we are always looking for opportunities to reach out to them through these forums.
Parag Gogate assisted with the Benefits SIG's summit in June – see the write-up of the event here.
Simon Williams shared his Journey of Change at TfL at a North East branch evening event in June.
Elisabeth Goodman took our working list of the six common factors for managing successful change to an evening event for the North West branch and an all-day event at the SWWE branch in September.  Joanna Bradshaw, Programme Director, Fraud, Error and Debt, for the Department of Work and Pensions, (DWP) gave a very interesting keynote presentation for the all-day event.  The output from the event is providing rich input for our introductory publication on managing change.
The current version of the six common factors for successful change is:
Formulate a clear vision and strategy, supported by well-defined benefits
Ensure strong leadership and sponsorship
Define and follow a well-structured and integrated approach
Uderstand, engage with, build commitment from and support key stakeholders
Build a strong change team with the necessary capabilities for success
Measure the success of the change initiative
Events coming up include an East of England Branch evening seminar on the 8th November hosted by MedImmune on "Astrazeneca's transformational relocation to Cambridge". We also have a webinar with the Change Management Institute (CMI) on the 6th December on their change competency framework. 
Look out for further details on our second all-day annual Change conference in March 2017, planning for which has just begun.  Please make suggestions for topics / content to: enablingchangesig@apm.org.uk
Contact Elisabeth Goodman on elisabeth@riverrhee.com if you would like us to present at one of your events, or if you would like to speak at or otherwise support one of our events.
---

Progressing our Practitioner Groups
Transport Practitioners' Group
Improving the ways APM supports members delivering change is the key theme of a new report produced by the Enabling Change SIG's "Transportation Change Practitioner Group."  The group's members found many common areas where their organisations were independently adopting similar approaches, which APM could potentially share more widely.  They proposed a dozen recommendations, which were presented to senior APM representatives at a meeting hosted by Transport for London (TfL) on 11th October.
According to Simon Williams, Head of Business Change Project Management at TfL and Enabling Change SIG Committee Member, "The opportunity to share experience, learning and ideas with colleagues who understand the scale, complexity and unique mix of challenges of the transport sector has been hugely rewarding.  The potential for APM to take this a step further by sharing the learning more widely and building it into future publications is very exciting."
The Transportation Group has pioneered the SIG's approach to practitioner groups, with senior representatives of all the main operational transport activities including rail, aviation, buses, shipping and logistics, along with experts including an academic and a leading author in the field of change management.  Since its inception in early 2015, the group has developed a map of sector challenges, shared good and bad practice through case studies from each organisation, exchanged research and frameworks, and identified a number of strengths of transport organisations which can support successful change delivery.
The common challenges reported by the Group include:
Financial – infrastructure is expensive with a long development period and life span, with much of it being publicly funded
Speed of technical change compared with long lead times for infrastructure, for example specifying aircraft now for delivery in 10 years time when technology will have changed significantly
Network complexity and 24/7 operations
Political, regulatory and stakeholder environment
Safety and security issues
High public profile and rising customer expectations
The group's recommendations cover areas as diverse as change sponsorship, business cases, requirements, stakeholder involvement, training and competency frameworks and tools, measurement, the relationship between project and programme management, and the definition of "change" itself.
We plan to hold an event during 2017 to feature some of the work of the practitioner group.  In the meantime, for more information, please contact Simon Williams at simon.williams@tube.tfl.gov.uk

Public Sector Practitioners' Group
A research report into public sector change practitioner practice is being drafted. This follows a series of in-depth interviews and a compilation of case studies. It is anticipated that the Public Service Change Practitioner Group will be able to review this report in November, when timelines for its approval and publication will be agreed.  For more information, please contact David Packham atdm.packham@btinternet.com
---
APM Research Project Update from 2015/16 – Development of diagnostic tool
The findings of this research were presented at the Annual General Meeting held on 9th June in London.  The results offer insights into 'Understanding why people behave as they do – to improve change delivery'.
Copies of the slides can be found on the Enabling Change SIG microsite by clickinghere.
This volunteer research project was funded by the APM. It developed a measurement and diagnostic methodology to quickly explore and identify behavioural obstacles in relation to readiness or resistance to change. The diagnostic tool will enable practitioners to take necessary action to minimise impact and maximise project productivity. The research team is now finalising the report and the diagnostic tool, which will be published in the coming months.
For further details please contact, Parag Gogate on parag.gogate@arcusfm.com
---

Launch of new SIG Change Pulse survey
The SIG has just launched a new ' Change Pulse' survey this November, focussing on change methodologies, success factors and measures. The key objectives for this survey are to establish:
The primary drivers for planned and managed change within participating organisations over the last three years
The range of approaches and methodologies used
The perceived success of planned and managed change initiatives
The range of criteria used to measure success
The research will explore these questions and will provide input into our planned introductory publication on managing change. The survey will be sent out to all SIG members, as well as other potentially interested groups.
The survey will remain open until the end of day on Friday 18th November.
Lastly, we would like to invite organisations to participate in further research interviews and in the formulation of case studies. If you would like to participate or have any questions about the Change Pulse survey then please contact Parag Gogate on parag.gogate@arcusfm.com