Event report: 3 Key Processes for Managing an Outstanding Team
What's it all about?
Tom Mallens, from Sandler Training, presented an insight into the processes, routines and systems that underpin outstanding team performance in Worcester, 17 October 2019.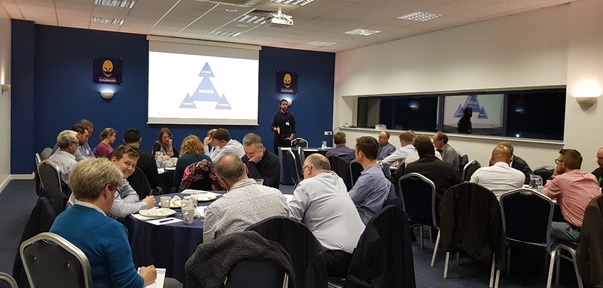 The talk
Tom started by asking attendees to work in groups to discuss their top 3 frustrations when managing teams. The results included poor communication, lack of cooperation, remote-working and common goals not being shared.
In acknowledging that many people find themselves 'accidental managers', Tom asked the groups to think about instances when 'the team aced it!' The factors discussed were:
• Using tools,
• Trust,
• Good communication,
• Clear vision,
• Managed expectations,
• Resilience,
• Strategic alignment (seeing the bigger picture),
• Rewards,
• Using the right resources with the right competences.

Tom introduced the 'BAT' model, which shows the elements which contribute to individual success: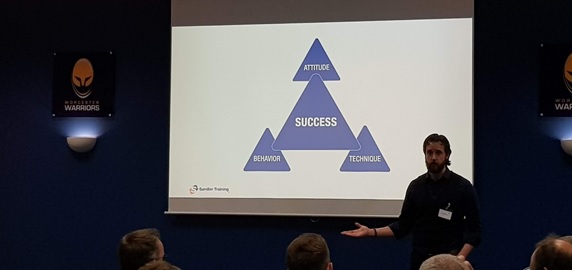 The groups discussed what the top behaviours are for a team, which included:
• Mutual respect and support,
• Constructive feedback,
• Celebrate success,
• Ownership (individual accountability),
• Knowing each other's roles,
• Confidence in each other.
Tom set the groups an exercise which showed the value of using a process to carry-out a task. Having an effective management system includes the following benefits:
• Maintain control,
• Save time,
• Help stay 'on-track',
• Duplicate positive results,
• Ability to debrief events and projects,
• Help recognise problems.


The evolution of the 'BAT' model is the diagram showing factors for team success:
1. Coaching – visualising the process. People never argue with their own data – help them articulate it for themselves.
2. Supervising – manage the numbers.  A lagging indicator of success is no. of sales. Too late! Manage behaviours, not results (because you still have time to change).
3. Training – practice doing things right.

If you only read one thing read this
The 3 elements for Team Success are Coaching, Supervising and Training


Opinion – influencer
Ian Chambers MAPM, Associate Director, Senior Project Manager, Programme Management and Controls at WSP in the UK, "I recommend APM CPD to all and Tom from Sandler Training delivered a great interactive learning session."

Summary – 3 take outs
1. Manage behaviours – not results.
2. Establish processes
3. Coach to help people help themselves
Further reading
APM BoK 6th Ed:
2.1.1 Communication; 2.1.2 Conflict Management; 2.1.3 Delegation; 2.1.4 Influencing; 2.1.5 Leadership; 2.1.6 Negotiation; 2.1.7 Teamwork; 3.2.4 Change Management.

Next events
The 7 Boundaries of Project Management, David Shannon, Nov 7th 2019, Clayton Hotel Birmingham, APM Midlands Branch.


Adrian Turner, APM Midlands Branch committee member.