FIFA World Cup: The show must go on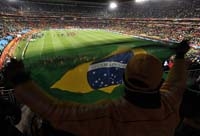 The Arena da Baixada in Curitiba, Brazil, will remain a venue for this years World Cup despite missing an initial 31 December deadline.
Hundreds of extra workers have been brought in to meet building requirements on the 40,000-seater stadium, in order to avoid it being the first ground to be dropped from a World Cup.
Four group matches will take place at the stadium, which is home to Brazilian top-flight club Atletico Paranaense, including the Group B clash between Australia and current world champions, Spain.
FIFA secretary Jerome Valcke told the BBC: It is essential that the works are maintained at the required levels and that a collective effort by all the stakeholders involved in Curitiba continues.
It is a race against a very tight timeline and will require regular monitoring, but we are counting on the commitment made by Atletico Paranaense, the city and the state of Curitiba.
After his January visit, Valcke added: We cannot organise a match without a stadium this has reached a critical point.
With more than 1,500 workers now on site, it is hoped the stadium will be completed by mid-May.
There have been six construction fatalities in the run-up to the World Cup, including three deaths at Manaus in the Amazon region.
Related stories: