First ECITB 'Offshore' Cup awarded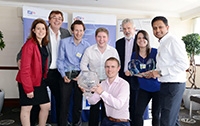 Aberdeen was host to the inaugural Engineering Construction Industry Training Board's (ECITB) 'Offshore' Project Management Competition 2014 known as the ACTIVE Cup, where Wood Group PSN took home the winner's trophy.

The ACTIVE Cup is a project management competition, run for the ECITB by Cranfield School of Management, as part of a programme of project management training. It encourages a collaborative approach to planning and executing projects for major offshore operators, contractors and sub-contracting communities. Teams from across the offshore engineering construction industry participated in the simulated project.
The closely competed competition saw Siemens taking second place and AMEC following in third.

ECITB operations director Andy Brown presented the winning team with the prestigious trophy, he said: "The ACTIVE Cup is a fantastic way for employers to reinforce the project skills which we need to deliver infrastructure projects, from concept all the way through to completion.
"It's really great to see the teams getting immersed in this challenging but fun project and I congratulate Wood Group PSN on their success."
Each of the teams were tasked with planning and executing a simulated project with the focus, and judging, being on applying non-adversarial behaviours and fostering innovation and risk and reward strategies throughout the entire supply chain. This approach increases the likelihood of the project being delivered on budget (another judging element), and is in line with key themes from the Wood Review in encouraging and working with industry to tackle the spiralling cost increases in North Sea projects.
Over the course of the three day event, the teams received tutorials before being asked to demonstrate their understanding of project management planning techniques throughout the full project life cycle. This means developing a proper relationship between costs, schedules and cash flow, project risk management, commercial awareness and personal organisation and behaviour.
Project management skills are essential to the delivery of major engineering construction projects and the ECITB invests £5 million annually to support organisations in developing their project management, project control and leadership capabilities.
The ACTIVE Cup is just one of the project management training events delivered by the ECITB and has been running for 18 years, however this is the first competition to be run in the region for the offshore community. The competition was a huge success and dates for 2015 competition have now been confirmed. Up to 12 teams are entered by employers from the engineering construction industry to enhance the skills of their employees, through the management of a computer simulated fixed price construction project.
For further information about how to take part in the next Offshore Project Management Cup in February 2015 contact ECITB.