Former APM president reflects on a life in leadership in new book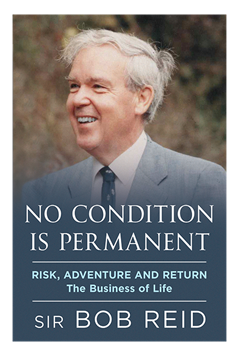 One of Britain's most respected international business leaders and former APM president, Sir Bob Reid, says the change to business attitude towards project management has been 'enormous' in recent years, as he looks back at his life and career in a new book.
Sir Bob, who was president of APM from 1991-2000, was formerly chairman of Shell UK, British Rail and deputy governor of the Bank of Scotland. Born in Fife, Sir Bob lost his right hand in an accident at the age of nine. After learning to write left-handed, he set his sights on a career in business and went on to work all over the world, beginning with Shell in Borneo before moving to Nigeria, Thailand and Australia. He received his knighthood in 1990.
His new book, No Condition is Permanent: Risk, Adventure and Return – The Business of Life, chronicles his early years and his career, including the many challenges he faced as a leader in turbulent political and economic environments.
"I saw so many difficult political situations," he explained. "My memories of Nigeria, or Thailand – where I was during the Vietnam war – are very much alive, which helped with the writing."
Sir Bob first became involved with APM in the 1980s as he was developing the Management Charter Initiative at Shell UK, to enhance the professionalism of the organisation's management.
He recalled: "We were trying to move the completion of the work programmes forward on an intellectual basis, putting the activity into the context of the organisation's objectives and creating the ownership of the project.
"We wanted to make sure that people carrying out these projects understood how they fit into the organisation as a whole."
When asked what he hoped project professionals would take from the book, he said: "I hope it will encourage project managers to think about their political contexts. Setting their projects in a political context will, at the minimum, allow them to define the project's impact on the environment and to improve its public acceptability.
"Projects should continue to be state of the art and presented as such to promote excellence in project management. Initiatives need to be continually refreshed. Perfection is a distant but not unachievable target!"
No Condition is Permanent: Risk, Adventure and Return – The Business of Life is published by Fonthill media and available to buy online now.